Hermès Fall/Winter 2023 Collection Demonstrates The Allure Of Pure Confidence
Sensuality takes new form.
Shutterstock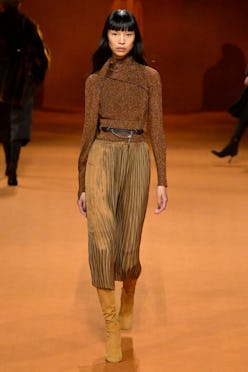 Although the past few years have seen the dial on provocative dressing steadily turned upward, the Hermès Fall/Winter 2023 collection seemingly approached sensuality from a very different lens. This season the brand emphasized the allure of confidence. At the March 4 showcase at La Garde Republicaine, creative director Nadège Vanhee-Cybulski sent models down the multi-lane runway in beautifully layered monochromatic looks that radiated a self-possession that was at once powerful and magnetizing.
To be clear, this strong, self-assured approach is not new for the French designer. Since her appointment in 2014, Vanhee-Cybulski has championed the modern woman via adventure-inspired collections, like the most recent Spring/Summer 2023 showcase, with its Sahara-like set and models wrapped in silky, body-hugging dresses (complete with parachute ties) and peek-a-boo macrame crop tops. And the Fall/Winter 2022 season showed skin in a teasing, playful way, pairing ultra-short knit shorts and dresses with thigh-high stockings and leather riding boots.
Empowerment was the style strategy on this runway, as was a bold color story, as seen in steady stream of outfits set in traditional fall hues of auburn, taupe, chocolate, camel, with pops of cranberry and a muted buttery yellow. While pattern play was noticeably absent, strategic texture mixing was shown in full force. Rich knit short and skirt sets were layered over thigh-high suede boots, and topped with fur bomber jackets and pea coats and/or accessorized with satin jockey hats and tubular leather handbags.
In an April 2022 interview with Harpers' Bazaar, Vanhee-Cybulski once compared designing for Hermés to assembling a Lego structure in that each collection offers the opportunity to create a new masterpiece using the same building blocks. "You need to be the architect and construct with it so it's not stagnant," she explained in the article. "It's quite dynamic." The sentiment rang particularly true at this show, as the designer leaned in on classic design codes — like luxe leathers and silks and timeless craftsmanship — and included them in of-the-moment designs. For instance, the aforementioned short styles were a far cry from the teeny tiny silhouettes of Hermés Fall 2022 line-up; instead Vanhee-Cybulski focused on a boxy, Bermuda-style — an increasingly popular trend for 2023 — that read chic and modern in leather and thick wool iterations. Midi skirts also got their due, presented in free-flowing silk and more fitted pencil suede versions, cinched at the waist with thin leather saddle belts.
A touch of carefree '70s glamour crept in as the presentation went on, with satin pleated midi dresses, some blocked with glittering necklines and bodices, that were reminiscent of a disco-era Halston creation. Apparently, the modern woman is not all-business and no play. A taste of the nightlife is essential.
Yes, in the midst of corsets and barely there see-through ensembles, Vanhee-Cybulski is proving that sensuality and strength can take many forms. What emerged from the latest collection, was a strong, self-aware individual, whose allure is palpable, even when cocooned in layers of rich fabric. Because, at the end of the day, there's nothing more seductive than a confident woman.
Ahead, see TZR's top highlights from the presentation.