The Absolute Best Fashion & Beauty Looks From Coachella 2019
Claire Huntsberger Photography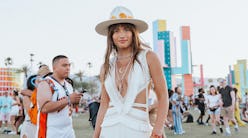 The first round of the music extravaganza that is Coachella has come and gone in the blink of an eye — but the style and beauty looks that debuted are certain to stick around for the season to come. It's a well-known fact that the annual Indio gathering marks the start of festival season, so it should come as no surprise the attendees of weekend one — which took place from April 12 to April 14 — pulled out some of their boldest, most memorable moves to date. If you're in need of some out-of-the-box fashion and beauty inspiration, look no further than Coachella 2019 to get your wheels turning.
The 2019 Coachella fashion and beauty scene was chock-full of every trend that's big right now (and will likely continue to reign supreme in the coming months). The clear favorite in terms of makeup among the first round of festival goers? Colorful eyeshadows, which ranged from neon green to bright pink and red, and crimson pouts, both of which made a strong case for going bold with your makeup this season. The fashion was a bit more varied, though slime green, animal print, head-to-toe leather, and pearl-embellished accessories of all kind proved to be unbeatable.
Ahead, The Zoe Reports breaks down the best Coachella 2019 fashion and beauty looks to draw inspiration from all spring (and summer) long.