How To Wear Pearls Every Day Of Your Life, No Matter The Occasion
Hernán Herdez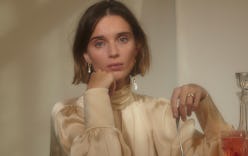 Let's take this back to my middle school days, which is precisely when my obsession with pearls began. Though I strove to be one of the first to experiment with trends in my small hometown, I also frequently succumbed to buying what everyone else had, which in 2007 meant a single-strand fake pearl necklace from Target paired with matching earrings — chic, if I do say so myself. Though the way I dress has drastically evolved since then (thank goodness), there's one element of my style that's held true: I still want to wear pearls every day of my life.
Luckily for me, 2018 made that dream possible. While I don't really remember seeing much in the way of cute pearl accessories over the last decade or so, this year brought what could only be described as an onslaught. There has been plenty of pretty jewelry, but they've also embellished everything from heels to to the humble cardigan, making once basic items into pretty, shiny pieces I suddenly couldn't stop thinking about.
Want proof? Just look at this cardigan from Musier to see what I mean. Pre-pearls, it was just another ribbed sweater. Post-pearls? It solidified its spot as a must-have piece in every It-girl's closet. And that's not the only item to take over Instagram thanks to the addition of a few of these gemstones. Reliquia Jewellry debuted their eye-catching hair clips, and almost instantly pearl-covered hair accessories became the need-to-try trend in 2018.
I realize that pearls might still feel a bit too stuffy for some people; but being that my style icon is Grace Kelly, wearing pearls every day doesn't really seem like a stretch. So on the chance that I haven't yet convinced you to ditch all your other jewels in the new year, keep reading for a some of the prettiest pearl pieces I've found in my many, many searches, along with my advice on exactly how to pull them off.
Dress Down A Classic
Though I'd definitely recommend giving some alternative pearl pieces a try, there's absolutely nothing wrong with sticking to the classic: pearl jewelry. Make it modern by choosing pieces with unexpected designs, and pairing them with casual outfits for the ultimate juxtaposition. My go-to is a pair of black pants, a white button-down, and a pair of pearl earrings, but you can make pearls even more dressed-down with a tee and some denim.
Wear The Pearls In Your Look, Instead Of On It
The best part of this trend's revival? Pearls have moved past just accessories and straight into the heart of your outfits. Instead of adding jewelry or a bag to a look, opt for a dress or cardigan that's adorned with a few pearlescent additions.
Work Some Dainty Pieces Into Your Hair
Hair accessories are one of the hottest trends to hit Instagram in 2018, and pearl clips and bobby pins are the perfect way to try this out. If you want to keep it simple, add one or two into your hair — or go all out and pair them with pearl jewelry to fully embrace the trend.
Add Unexpected Pieces To Any Outfit
One of the most modern ways to wear pearls is to infuse them into your daily look in unexpected ways. Forget jewelry — a faux-fur handbag with pearl handles or a chic corset dotted with oversized pearls will incorporate the gemstones into an outfit in the least obvious — and arguably most fun — way.
Pair Fancy Shoes With Casual Clothes
No matter how fancy a pair of shoes, I'd argue that they can be worn every day when dressed down with a pair of jeans. Whether it's a pair of pearl-studded simple flats or heeled satin mules, some denim and a button-down shirt will hide the fact that you're wearing something fancy on your feet and turn an over-the-top piece into an everyday item.