Sultry Style Is Going Strong For Spring — Here's 5 Ways To Wear It
@paujoaristi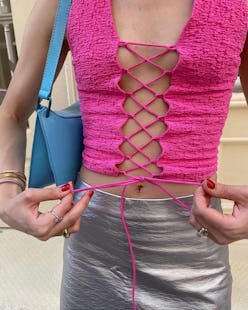 We may receive a portion of sales if you purchase a product through a link in this article.
If you're feeling brave enough to actually leave your apartment in the middle of winter, you might be surprised to find that lately, underneath all those layers of puffer coats and faux shearling, everyone looks... smoking hot. That's right — the sultry style trend isn't going anywhere for spring 2023, and I for one am thrilled at the prospect of channeling my inner THOT, regardless of the weather. The craze that started in 2021 as a reaction to our first year of lockdowns and surged throughout 2022 as we waited (and waited and waited) for a return to normalcy has resulted in many fashion fans throwing up their scantily clad arms in favor of increasingly sensual clothing.
The beauty of the sensuous look's latest iteration isn't just that designers are embracing it with both whimsy and comfort in mind (yes, that cutout dress can actually feel enjoyable to wear) but rather our desire to show more skin is stemming from feeling more confident in ourselves, no matter our age. "I totally think post [lockdown] society has boosted sex appeal and it's carrying over onto the runway," says stylist Scot Louie. "[A few years ago] we saw the birth of OnlyFans, and some of the leading acts in entertainment participating in it. It was only a matter of time before the fashion industry followed suit and joined in on the fun."
Even if you're not quite at the level of launching your adult content account just yet, there is something to be said for checking your insecurities at the door and leaning into seductive silhouettes for no one other than yourself — even if you are posting the occasional #getreadywithme video on TikTok.
"Fashion flows on a pendulum," says stylist and creative Alexis Badiyi. "[After] the polarized layers of our at-home stay, being out and almost naked simply had to follow, [like] an energetic burst of freedom to connect and reveal oneself again." She adds that while she spent a few years dressing "quite naked", she is now enjoying the tension of concealing and revealing within an outfit, which is an ideal place to begin if you're new to wearing exposing clothing.
Another perfect starting point? The five styles ahead — which are all worth incorporating into your wardrobe for a little bit of *spice* — plus pro tips on wearing them.
Exposed Underwear & Netted Fabric
The "shipwrecked" trend is still going strong with the debut of various woven and netted fabrics in skirts, dresses, and separates that allow your chosen lingerie to remain front and center. When opting for exposed undergarments, Louie suggests keeping your look subtle yet intentional, à la Carrie Bradshaw, the master of the exposed bra. Badiyi is also a proponent of keeping netted fabric balanced with oversized pieces to make them more wearable for everyday. "I loved how Interior styled an oversized soft sweater over a sheer netted skirt in their spring show," she says. "I like the balance of having the illusion of coverage with a splash of surprise."
Unexpected Cutouts
Cutouts have been over the runways and the fashion scene's favorite street style stars for awhile, but this season is seeing a tease of skin in new, unpredictable places. A hint of hip bone, a whisper of ribcage, or a slice of sternum is proving that a bare midriff isn't the only area deserving of a bit more exposure in 2023. Louie's number one tip for rocking the look year-round? "Layer! Adding a bit of outerwear like an oversized blazer helps to highlight cutouts in a luxe way," he says. Badiyi also suggests adding plenty of layers to play with proportions, and keeping your color palette subtle to allow the cutouts to shine. Whether you prefer muted tones or a bit of color, subtle cutouts will help your outfit strike the right balance between sultry and sophisticated.
Corsetry
Corsets have gone in and out of fashion for centuries, but the 2023 version is all about mixing a high fashion ethos with unexpected fabrics and details. For example: Consider teaming one of Schiaparelli's conceptual bodycon tops with your favorite pair of baggy Levis for a contrast in volume. Adds Badiyi, "With corsetry it is best to lean into the fantasy you want to create for the evening. I love seeing this [silhouette] worn over a dress or paired with a skirt that has more ruching and volume for an elegant evening." Louie is also a fan of wearing the fitted piece with a body hugging ankle length skirt. "[It] really solidifies the dramatic shaping corsetry can provide," he says.
Micro Hemlines
While the 2022 trend cycle was dominated by the ubiquitous Miu Miu micro mini, this year will see the return of the itty bitty dress that leaves your legs looking ten miles long. If you're hesitant to try this silhouette on its own, Badiyi suggests layering your favorite short dress with a pair of pants (yes, the '00 look is making a triumphant return in 2023). But should you feel fearless? "Lean into it and get playful with a platform shoe when wearing a micro hemline," says Louie. Consider this your call to give some sky-high heels a try.
Lingerie-Inspired Designs
To make lingerie-inspired pieces feel less like, well, actual lingerie both stylists recommend paying plenty of attention to the fabrics in the rest of your outfit. Try something tougher and more masculine, suggests Louie, to avoid looking like you just rolled out of bed. On the other hand, Badiyi recommends sticking with fabrics that are similarly soft and luxe like satin, organza, and lace to keep your look elevated. "A full lace bodysuit is a great item to have for layering underneath your outfit, just exposing pops of lace here and there," she explains.