The Three Sexy Dressing Principles I Swear By In My 30s
@chiaraferragni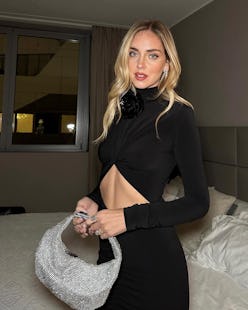 We may receive a portion of sales if you purchase a product through a link in this article.
In less than three years I'll be entering my 40s and, I gotta say, I'm looking forward to it. Admittedly, I don't love the new lines forming on my face and body or the grays sprouting from my hair like a well-tended garden. But, those things can be addressed (thank you, Botox and hair dye) and, despite it all, I've never been more confident in my skin than I am in this present moment. I feel that my 40s will only nurture and cement that confidence even more. Perhaps it's the wisdom that age brings, or the grown-up bank account, the five-day-a-week hot yoga sessions, or the comfort and acceptance of yourself that gradually builds with time. Or maybe it's just a really good therapist. It's likely a combination of all of the above, but suffice to say I'm embracing myself like never before these days, and it's manifesting in my wardrobe. In fact, I've discovered new methods of sexy dressing in my 30s that would surprise my twenty-something self to no end.
For reference, I was painfully insecure about my body in my teens and 20s. Save for the occasional mini skirt or sheer top, I didn't show a lot of skin back in the day. I was critical of every inch of me, particularly my midsection, so I became very strategic in how I presented myself. Floaty, billowing silhouettes were my go-tos and, although I came of age at the height of Y2K fashion, during the reign of skinny jeans, crop tops, and low-rise everything, I somehow found a way to wear the skimpy trends in the most modest of ways (I was a master at layering). Sometimes, I look back at old photos and wish I could tell that girl to love herself and her body a little more. But, I have peace knowing she came around eventually — at the ripe age of 37.
Yes, despite the slower metabolism and loss of collagen, I'm feeling great about my body, and have been showing it off like never before. With the early aughts coming back in full force, I feel like I have a second chance to play with the styles and silhouettes that I always shied away from in my younger years. Now, that's not to say I'm running around half-naked (although I admire and encourage all who do), but I'm definitely flaunting what I got in a way that still feels authentic to my personal style and age.
Ahead, the three sexy dressing principles I swear by in my 30s (as demonstrated by other women in the same age bracket with style I admire).
Mini Me
Of all my physical assets, I've always liked my legs. And with micro-mini hemlines still going strong in 2023, I will continue to partake and let the world see my stems. My strategy with a miniskirt or dress is typically to keep my top half covered. At the moment, I'm loving a skirt look that strikes the perfect balance of fun and professional. London-based corporate lawyer turned fashion influencer Lisa Ing Marinelli demonstrates this perfectly above, pairing a teeny weeny mini with an easy tank, oversized blazer, and trendy Western boots. This look is definitely one I'll be replicating.
Cut It Out
I love a strategically cutout top and/or croptop, and have no plans to stray from the trend anytime soon. Again, my approach here is all about balance. As modeled perfectly by stylist Sophie Lopez, an ultra sexy crop top with cutout detailing can be easily grounded and made work-appropriate with a more sophisticated (and covered) silhouette. Maxi skirts are also having a moment, so I like the idea of bringing the best of both worlds together for an ensemble that brings the heat in a more subtle way.
Fitting Behavior
While a fitted dress or look may not err on the risqué side for some, for me, this was about as revealing as one could get. The clingy, stretchy fabric hugged my body, spotlighting every bump and curve in a way that made me feel practically naked. And as someone who was always self-conscious about her midsection and derrière (or lack thereof), I avoided all manner of fitted ensembles like the plague. That said, in recent years, I've found myself gravitating toward them, particularly the longline, strapless variety that reminds me of an early 2000s prom dress. I love this silhouette in classic black (as worn by Chiara Ferragni above) or in dark denim. For a more laidback, everyday look, I'd pair the fitted frock with some equally easy slip-on sandals and elevate the look with fun jewelry and a cool handbag.