This Styling Technique Makes It Easy To Wear Shorts In 50-Degree Weather
@claire_most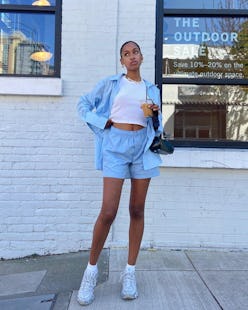 We may receive a portion of sales if you purchase a product through a link in this article.
I don't always make the best sartorial decisions. In fact, I often joke with my friends that my outfit choices during the chilly months are occasionally comparable to that of a middle schooler. You know... that kid who insists shorts are apt to wear to school in February? Yep, that's me. I'll wear a puffer jacket with my favorite lounging-around spandex when the temps are in the 50s and order an iced coffee at my local Starbucks no less (it's only a two-minute walk from my apartment, I swear). Needless to say, I'm more than ready to wear shorts once spring hits. The bottoms, with proper styling, can easily be worn right now, and I'm here to prove it to you.
Step one? Pick out the right pair of shorts. Of course, knee-length Bermudas are the most practical style as they provide a bit more coverage than cutoffs. And luckily they're also a top trend this season, so look for leather, denim, or even linen options. If you want the hemlines to creep up even more, go for boxer shorts. Sure, you may be slightly cold, but sometimes fashun is all about taking risks. And for those lazy girls out there (present!), you'll be pleased to know this laid-back piece is also en vogue this year.
Once you have your bottoms ready to go, next comes the styling. The trick, here, is to balance the leg-baring piece with a layered look on top, like a denim jacket over a long-sleeve blouse or tee, to keep your core warm. As for your footwear, there's nothing cooler than a shorts and knee-high boots combo, IMO. But if sneakers or loafers are more your style, simply team the shoe with a toasty calf-hitting sock for additional warmth.
Ready to master the art of wearing shorts in the spring? If yes, keep reading to find four outfit formulas I plan to replicate this month.
Cardi Party
Influencer Grece Ghanem is delivering a prime example of how to layer clothes here. I love how the sweater and button-down blouse add a preppy element to the look, but not overly so, especially when it is styled with colorful sandals versus loafers. Moreover, I'm usually not one for chino shorts — they remind me too much of my school uniform growing up — but I have to say, her look has changed my mind.
Best Vest
A cozy sweater vest is another smart way to layer on top for warmth. Here, stylist Elizabeth Cardinal wore a printed sleeveless knit over a neutral long-sleeve collared blouse. And because I'm a fan of wearing my sporty shorts with elevated separates, I plan to take styling notes from her athletic-looking bottoms, too. On the shoe front, I'm all for these super sleek white flats, as I prefer a comfortable silhouette over a heel.
Cozy Chic
I'm the type of person who hangs around the house in shorts year round, which is precisely why I'm guilty of wearing the bottoms out to quickly run an errand in, even when it's not leg-baring weather yet. Though I usually wear spandex or running styles, I'm on a mission to add more knit options, like Donni's waffle style, into my collection. And if I want to meet up with friends at the park? I'll simply throw on a denim jacket and sneakers (or Crocs!) and head out the door.
Suit Up
If you want to wear shorts to the office, this can be quite tricky. However, one way to pull off the look is with Bermuda shorts and a matching blazer. I would complete the look with my favorite Adidas Samba sneakers, but if that feels a bit risky for your work environment, opt for a ballet flat or loafers.