Sherry Shi Is Low-Key One Of The Coolest Models Living In NYC
Rosdiana Ciaravolo/Getty Images Entertainment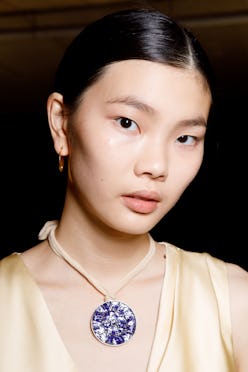 We may receive a portion of sales if you purchase a product through a link in this article.
Sherry Shi is no stranger to wearing a head-to-toe lewk. The seasoned model, who regularly appears on the Dior and Versace runways, has built her career on wearing the industry's most lavish designer clothing, after all. But when the 21 year old is off the clock, you might find her wandering around her home base of New York City in a blazer and button-down outfit she swiped from her dad's closet. "I love the way men's clothing is cut," she tells TZR over the phone, adding that she's drawn to laid-back style in general. And since Shi got her first taste of the industry at 10 years old, she's had half her life to master the effortless off-duty model aesthetic.
"My [older] sister was a model before I was," she tells TZR, explaining that she was more likely to tag along to a shoot than star in it. "But then one of the agents encouraged me to start modeling, too." Upon hearing this, the Houston native practiced her runway walk by watching fashion shows every day after school. Her extracurricular activity, if you will, clearly paid off: Following her breakout season of Spring/Summer 2021, she's quickly risen to become one of the industry's most sought-after stars — in fact, during Fall/Winter 2022 month alone, Shi walked in 34 shows. Of all the runways she's graced, though, the rising model says Versace's Spring/Summer 2021 show was the most memorable for her. "That's a fashion house that has had the most influence on my love for [the] runway," Shi says.
When she's not owning the catwalk, Shi fronts fashion campaigns for labels like Gucci, Moschino, and Max Mara. Additionally, she'd popped up in buzzy editorials like Vogue's September 2021 issue, shot by famed photographer Ethan James Green. "That was my first-ever cover, and it was a cover that I got to share with the most incredible women, like Kaia Gerber, Bella Hadid, Precious Lee, Anok Yai, Lourdes Leon, and Ariel Nicholson," she says.
TZR sat down with Shi to both talk about her busy career and how its influenced everything from her personal style to close relationships. Keep scrolling for the model's wardrobe essentials, favorite brands, expert traveling advice, and more.
Where are your favorite places to shop in NYC?
Luxury department stores with an assortment of my favorite brands, like Rag & Bone, Frame, and Proenza Schouler [that speak to] my business casual or chic approach. And for my more casual skater-girlish vibes, I shop at either Calvin Klein or Urban Outfitters.
What are the wardrobe pieces you can't live without?
My Rag & Bone and Stussy reptile animal printed tees. Also, my anime hoodies and T-shirts from the Demon Slayer and Uniqlo collaboration. And my Levi's jeans as well as sneakers, like the Nike leather print ones.
What's on your shopping list for summer?
I love the boxer trend with the waistband showing and I always have my eyes out for the latest anime fashion collaborations, so I'm currently looking at the Spy Family Uniqlo one. I also have my eyes on summer dresses [from Zimmerman, Proenza Schouler, and Rag & Bone]. In terms of style, I don't mind a tight dress or floral styles as long as the fabric is breathable and something I feel comfortable in.
What labels do you think are worth splurging on?
I would say Proenza Schouler and Saint Laurent are worth the investment. The attention to detail and amount of sheer focus that goes into crafting the finest pieces of clothing [at these brands] is something that [I] feel so empowered by.
You travel a lot for work — do you have any packing tips?
Always have one of those cloth zipper organizers, which you can find at Muji or Vera Bradley, to separate your beauty self-care items and everything else you need in one organized space in your luggage. I could never live without the sweatsuits that I always travel in. And, of course, a jeans and T-shirt combination will always be one of my most beloved staples [when I'm on the go].
What's the best piece of fashion advice you've received?
Without a doubt, from my own experience and the conversations I've had with industry veterans, having a strong community of family, friends, and agents is the most important thing about this job. Who you surround yourself with is who you become, and this industry demands a huge amount of mental, physical, and spiritual attention, to say the least — it can get isolating incredibly fast. Having a strong group of people who truly have your best interest at heart makes all the difference and will keep you strong in the crazy world of not just fashion, but the world in general.