How To Wear A Plaid Skirt Like You Aren't Heading To Homeroom
Neil Mockford/Getty Images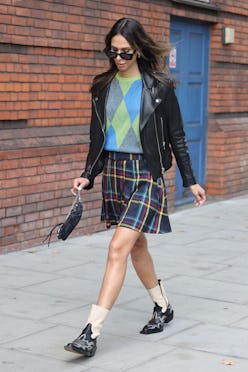 We may receive a portion of sales if you purchase a product through a link in this article.
The biggest impact TikTok has made on me yet (aside from my significantly reduced attention span) is the introduction of "dark academia." My alma mater's main undergraduate library was far from the oak-walled, candelabra-lit book sanctuaries all over my For You Page right now, but it's still possible to channel the cozy, collegiate vibes of the trend through my clothing. While there are many ways to get the look, a plaid skirt is one of the most classic and recognizable — and it happens to be a beloved fall-winter staple at the same time.
For me, the key to wearing a tartan pattern is by incorporating it in such a way that it reads timeless and distinctly literary without seeming too young (i.e. like something from an actual schoolgirl uniform). Dark academia, after all, is all about more sophisticated markers of higher learning, not hanging out in homeroom. I like mixing a traditional criss-cross striped skirt — any length — with unexpected, near-clashing elements, like edgy leather or western wear. Alternatively, I might look for the motif in a bold combination of colors, like bright neons. Putting a spirited twist on the style is the easiest way to break the preppy mold without sacrificing everything that makes the coed-cool aesthetic so great.
Shop some of plaid skirts I'm eyeing for fall and the long winter ahead.