These Winter Color Trends Will Make Cold-Weather Dressing A Blast
@annejohannsen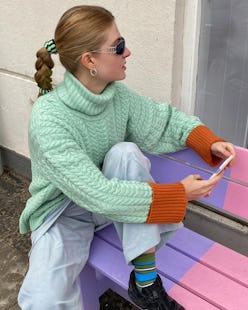 We may receive a portion of sales if you purchase a product through a link in this article.
Not to bring the mood down on this lovely fall day, but just putting a friendly reminder out there that winter is quickly approaching. Now that it's on your radar, why don't we talk about cold-weather style for a minute? Though the upcoming forecast provides ample opportunity to road-test new layering techniques, it's also quite easy to fall into a sartorial rut when it's freezing and, sometimes, downright miserable outside. If this has been the case for you in the past, we'll let you in on a foolproof fashion tip: Try experimenting with winter's top color trends. This season, in particular, offers up feel-good shades guaranteed to put some much-needed pep in your step.
When referencing Pantone's fashion color trend report for New York Fashion Week Fall/Winter 2023, the company's executive director Leatrice Eiseman says it's a well-balanced palette, with a mix of dark, light, warm, and cool hues (don't worry, we'll chat about them more below). "It's not leaning so much on one side that it completely obliterates the other; the warm doesn't overwhelm the cool, and vice versa," the expert tells TZR over the phone. She adds that the shade assortment relates to our lives today, in general. "Balance is a keyword in everything that we do, the way we eat, the way we think, getting enough exercise, [and so on]."
What's more, should you need some styling advice for wearing winter's buzziest shades, Kate Bellman, editorial and content director at Nordstrom, is here to assist. "Monochromatic dressing is a great way to be expressive through color, but instead of the vibrant mix and match of seasons past, stick to one color in a variety of tones," the expert explains. Perhaps a right-now tonal red or green look (yes, they happen to be very festive, too) will be right up your alley?
Scroll ahead for a full rundown of winter's eight color trends — straight from the experts.
Green With Envy
"Greens have been popular for the past few seasons due to their inherent connection to nature and consumer desire for the outdoors," explains Emily McCarthy, color strategist at WGSN. What specific tone will flood your social media feeds in the coming month? During our chat, Eiseman points to Pantone's Kohlrabi color, which is described as a tasty green. "It's invigorating," she explains. "We say it adds a dash of piquancy, meaning it's got a bit of a bite, which adds so much interest to warmer colors."
Oh Hey, Gray
Gray? Having a moment? Bellman confirms the rumors are true: "Gray has emerged as the leading neutral for the season and looks as great in a cocooning cashmere sweater as it does a full skirt," she says. Take her advice and tap into the hue via a monochromatic outfit, as illustrated above.
Red Hot
You didn't think we'd discuss color trends without mentioning red, did you? It's no secret the color has taken the fashion scene by storm this year, and according to Bellman, it's sticking around for winter. "Red makes a power play as the impact color for tailoring and party dressing alike." And if you've yet to give the bold shade a go, McCarthy has a great recommendation on how to wear it. "The use of red within footwear and accessories adds a pop to existing wardrobes, such as red socks and tights, patent Mary Janes, and baguette bags."
Timeless Tan
For winter accessories, Amira Rasool, founder and CEO of The Folklore, says the company's retail partners are favoring tan, which is in line with 2023's minimal aesthetic. "It's not only suitable for functional daytime handbags, but brands can translate it well for day-to-night looks" she explains, pointing out elevated classics like Florian London's Mini Vienna Bag.
Icy Green
Are you eager to branch out and sport an unexpected shade this winter? Pantone's has just the thing: Carnival Glass, an icy green tone. "It's an unusual color to think of in fall and winter, but this kind of green has really gained momentum because it hasn't been a really prominent color for a while," Eiseman explains.
Citrusy Orange
Sorry, Elle Woods — this season, it seems orange is the new pink. "Orange is still top of the heap, as far as a lot of people have discovered it and really decided that they like it," Eiseman says. And it's no wonder folks are jumping on the bandwagon: "It is the quintessential color of excitement. If you walk into a room and you've got something orange on, nobody will ignore you."
Sleek Silver
"Silver is trending similarly in line with the holiday season, particularly in dresses, pants, and skirts," notes Rasool. And Tiffany Hsu, chief buying officer at Mytheresa, adds that metallics are an easy way to stand out in the crowd.
Sunny Yellow
In the past two seasons, Eiseman notes that the masses have accepted yellow more than ever. "People now realize it's a great color to mix with other shades," she says about its recent uptick in popularity. And just sprinkling a hint of the lively hue into your look is bound to yield bold results. "It adds a pop of excitement and warmth," she says.