5 Iconic Rory Gilmore Outfits To Add To Your Fall Rotation
Dark academia personified.
CBS Photo Archive/CBS/Getty Images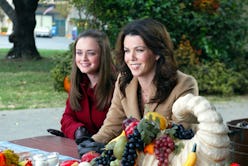 We may receive a portion of sales if you purchase a product through a link in this article.
Fall is here, so your favorite mother-daughter television duo is ready to be streamed on screens everywhere. Gilmore Girls, the hit sitcom that ran from 2000 to 2007 (and rebooted in 2016), is the best show to watch while cuddled up with a warm drink and cozy sweater. The fictional town of Star's Hollow transports you to the beautiful world of crunchy leaves and hayrides and looks a lot like those autumn Pinterest boards you likely pin this time of year. Not to mention, all the fall style inspo you can get from the queen of dark academia and oversized cable knit sweaters, Rory Gilmore. The brainy bookworm and scholastic overachiever pioneered the moody collegiate style decades before it even became a thing.
Gen-Zer's who have made the scholarly look trendy have recently taken notice of how Rory is one of its original adopters. Her cream sweater from the first episode of the show went viral on TikTok in the summer months as the knit to buy for fall. This is undoubtedly her most recognizable look, but she's also worn so many iconic outfits throughout the show's run that can easily be pinned to your mood board. Like when she went golfing with her grandfather and rocked a striped beret cap or when she was sitting in a college class wearing a very 2000s skinny scarf with a patterned sweater. Rory sticks to simple outfit formulas with the occasional interesting accent, making her style timeless, but also rife with current trends, particularly in regard to fall 2023.
Whether you're the ultimate Gilmore Girls fan, or just someone in need of some seasonal style guidance, TZR rounded up five of Rory Gilmore's best looks to add to your fall wardrobe with links to shop similar pieces.
Cozy Neutrals
As previously mentioned, Rory's iconic oversized cream cable knit sweater has received a ton of social media clicks, and for good reason. You can never go wrong with throwing on a comfy separate with a pair of jeans or trousers. In the above clip, Rory was heading to class, so she added a brown leather backpack. Pro tip: If you're looking to make your rucksack more stylish, opt for a leather material that gives the same sophisticated feel as a chic tote or briefcase. To keep the look simple, channel the youngest Gilmore and opt for a basic pendant choker as your sole accessory.
Party On Top, Business On The Bottom
We all have those moments when one's outfit feels a bit too plain, and we're looking to spice it up. For Rory, that meant adding a fun striped hat to a clean button-down and trouser look. While she was wearing this look to go golfing, this is the perfect inspiration for when your office outfits feel a bit stale. Don't be afraid to try something new and go against the corporate grain.
Classic Cuts
For those dressier outings that require something a bit more elevated, a midi dress will be your best friend. The length means a bit more coverage during chilly evenings, and a leather jacket or blazer can easily be thrown on top. Heels aren't the only option when it comes to a going-out look, so adding a black flat or ballet-inspired slipper will give the same fashion-forward effect. Dangly earrings finish off the classic vibe.
Sweater Weather, Leather Weather
One thing to note about Rory Gilmore is she loves sweater weather. You will always catch her in a soft knit. She usually dresses down in relaxed styles, but here she shows us how to upgrade a classic cozy top by swapping trousers or jeans for a miniskirt. This time of year also welcomes the beloved leather jacket as a staple in everyone's fall wardrobe. Going for a chestnut brown like Rory's instead of traditional black adds more variety and warms up your outfit.
Mixing Prints
This striped skinny scarf and Fair Isle sweater combo is soooo early 2000s and I'm obsessed. Although her style usually leans toward the casual side, Rory is not afraid to mix prints. The skinny scarf as an accessory is genius because it adds a unique element beyond the typical necklace. She finished off the look with a simple pair of jeans. This is the perfect weekend uniform for when you're headed to a chill lunch or taking a walk through the park.