We Asked Astrologers To Break Down Paraiso Miami Beach Swim Week's Biggest Trends
Let their answers guide your vacation shopping.
Reagan Rule/Getty Images Entertainment/Getty Images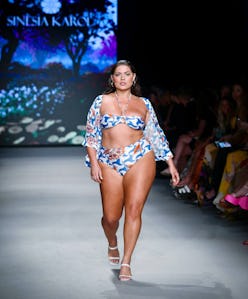 We may receive a portion of sales if you purchase a product through a link in this article.
That's a wrap on Paraiso Miami Beach Swim Week! As always, the annual four-day-long affair saw no shortage of must-have summer suits, from the Baywatch-inspired high-cut one-pieces presented at The Blonds to the cheeky, booty-baring bottoms that stole the show at Shan Cruise. But with so many new bikinis, one-pieces, and miniskirts styles to consider for the season ahead, it's no easy task to narrow your choices down — so TZR asked Adama Sesay, author and astrologist at LilithAstrology.com, and Solaris The Hii Priestess, an astrologer and tarot reader, for a little guidence. And let's just say if you haven't tried aligning your beach season look to your zodiac sign yet, they make a compelling case to start.
Capricorns, for instance, will want to ride the miniskirt wave (see: the Axil runway) because, as Sesay explains, they value practical silhouettes — and what's more functional than a breezy bottom that'll transition from the beach to the boardwalk? And take notes, my fellow Scorpios: According to Solaris, we tend to reveal only certain parts of our private life (yeah, that tracks); thus, a sheer silhouette that only shows certain areas of the body, like the options at the Curve Collective Fashion Show, are fitting choices for the fixed water sign.
As for the rest of you reading this, are you ready to find out what swimsuit style resonates the most with your zodiac sign? Should you be shaking your head yes, keep scrolling below to see (and shop) what the experts recommend.
Aries: Sporty
Both authorities agree the sporty styles seen on the catwalks at shows like Natasha Tonic and LainSnow best align with an Aries. "They tend to be very active, and they can go from beach to volleyball to hiking and also have a very active day in that same swimsuit," says Sesay. Solaris is on the same page, adding that the fire sign is very competitive.
Taurus: Strappy Silhouettes
Taurus is ruled by the planet Venus, meaning they're a very sensual sign. Therefore, Solaris thinks the earth sign is all about a sultrier look — and the strappy, criss-cross silhouettes that reigned supreme in Miami more than fit the bill. "This [trend] accentuates their beauty, whether it's the midsection or showing off their hips," she adds.
Gemini: Neon Colors
Due to their outgoing personality, Sesay notes that Geminis are fond of vibrant shades, especially sunny yellow. And fortunately, there was no shortage of bold, citrusy hues in Miami this past week. Think: Natasha Tonic's midriff-baring one-piece, as seen above, and high-shine orange looks at Sinesia Karol.
Cancer: Ladylike Details
Feminine and beautiful are two ways Sesay describes Cancers. To wit, the astrologist invites the water sign to dabble in a bold bow or ruffled swimsuit this summer. From the sweet ribbon-adorned sleeves at Club L London to the larger-than-life ruffles at Shan, there were countless runway moments to draw inspiration from.
Leo: Full-On Fuchsia
Come on Barbie, let's go party. Counting down the days until Greta Gerwig's upcoming film hits theaters? So are your favorite swimwear designers. And Leos, odds are you won't be able to resist tapping into your inner doll, either. Because according to Sesay, the fire sign is drawn to dramatic, attention-grabbing looks, such as hotter-than-hot pink.
Virgo: Full Coverage Pieces
"A Virgo is a little more subdued and classic with their style," Sesay tells me. So something with more coverage (unlike, say, thongs) seems like an excellent match — like the burnt orange one-piece look at Natasha Tonic pictured here.
Libra: Cheeky Cuts
While there may not be any data to back this up, Solaris says Libras notoriously have nice bodies... in particular, butts (I'm just the messenger!). If you count yourself one of the lucky ones to have a booty and like to flaunt it, consider testing out a silhouette that shows off your, ahem, assets. Might we suggest a celebrity-approved thong?
Scorpio: Sheer Panels
As mentioned above, Scorpios don't share every detail of their life. Or, as Solaris puts it: "They'll show you some things, but there's still some distance to what you see." That said, a strategically see-through one-piece is the way to go for the water sign.
Sagittarius: High-Cut Thighs
Extremely adventurous? That's you, Sagittariuses, according to Sesay. Go bolder than ever with a revealing high-cut suit à la Pamela Anderson in Baywatch. Tip: This design would look so glamorous worn with a silky printed scarf around your hair.
Capricorn: Itty Bitty Hemlines
Yes, the miniskirt craze is now bleeding into swimwear, too. And if there's one sign who would reach for the style, it's a Capricorn, as Sesay says they lean toward more practical and classic silhouettes. A swim bottom that can moonlight as a going-out look? That's quite a multitasker if you ask me.
Aquarius: Shimmer
Sesay explains that Aquariuses tend to have a soft spot for a bold, look-at-me outfit, like, say, a glitzy bathing suit. "And it will help them stand out at the beach because Aquariuses love to be unique and stand out in the crowd," she adds about a sparkly style.
Pisces: Ring Accents
Last but certainly not least, Sesay points to flirty as word many associate Pisces with. And as it happens, there was their fair share of coquettish details at this year's swim week, perhaps the most prominent being sultry ring accents.