We Found You Something Perfect To Wear Every Day This November
@alyssainthecity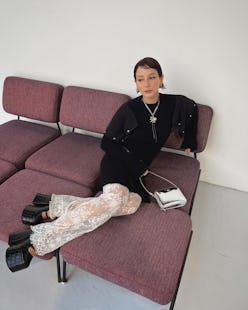 We may receive a portion of sales if you purchase a product through a link in this article.
The first day of November is here, which only means one thing: The holiday season is right around the corner. Indeed, the tear-jerking commercials are coming, and the majority of the subject lines that'll hit your inbox this month will likely include something about "gift guides." Ready or not, festive gatherings are about to take over your calendar, too. In short, this November, you'll want outfits lined up not just for weekends spent on outdoorsy fall activities, but for parties and events as well.
'Tis the season to be doused in sequins and embellishments — and should you be willing to rock a light-reflecting number before the clock strikes 7 p.m., simply offset the snazzy piece with casual footwear, like sneakers or chunky loafers. Then, once the party rolls around later on, your outfit is set for a shoe change. (I, for one, have a holiday dinner after work tomorrow, which I'm using as an excuse to wear sparkles all day.)
And for the low-key fall jaunts on deck? Well, your wardrobe selection boils down to the itinerary. If the weekend will be spent admiring the fall foliage on a hike, then a lightweight puffer and all-terrain boots are the way to go. But if your plans involve cozying up on the couch playing UNO on repeat (no judgment here), perhaps a cute sweatsuit is a better option.
Below, explore 30 cute and cozy outfit ideas for whatever this November has in store.
Sharp Blazer
There are bound to be a few days this month that only call for a blazer. In that case, a polished, oversized style will suit you (pun intended) well.
Snazzy Sneakers
Not into heels? No problem. Instead, wear a metallic ballet flat or sneaker at a holiday affair. We'd suggest Adidas x Wales Bonner's silver kicks — if you can get your hands on a pair, that is.
Red Hot
Not to state the obvious, but red is the year's most sought-after shade. A bold sweater in the hue feels both polished and playful.
Tall Boots
Kick off boot season by strolling around the office in luxe leather knee-high stompers. Team the shoes with an elevated suit for a well-rounded outfit.
Balance It Out
Make sequins daytime-appropriate with a simple neutral pullover. On the shoe front, suede boots will add an autumnal feel.
Shine Bright
Metallic looks are flooding the new arrivals sections of every major retailer right now. Not sure which shiny piece to choose? Go bold with a silver jacket.
Keep It Cozy
Sometimes, you just need to spend a Sunday unwinding at home. But if you still want to look put together, a lightweight short, like Cou Cou's easy style below, is a good option.
Add Interest
Though a plain neutral crossbody may be your usual choice on the weekends, a unique statement bag is a simple way to take your off-duty outfit to new heights.
Print Party
A tweed or herringbone blazer isn't your speed? Try a statement-making floral or plaid print instead.
Sleek Slip
A slip dress in November may sound, well, chilly. But the secret to wearing the piece without feeling uncomfortably cold is to throw on an ankle-grazing jacket and knee-high boots (and maybe slip into tights for good measure).
Bold Belt
If your cold-weather outfit seems like it's missing something, perhaps a cool belt is the solution.
Playful Puffer
You'll need a puffer jacket this month — so why not go for a cheery option? This bubblegum pink style is sure to bring joy, even on the dreariest of days.
Standout Sunnies
Zhuzh up a casual sweater with fun frames — perhaps these circular red babies from Jacquemus? They'll certainly come in handy if you live in a city that requires a car.
Versatile Button-Down
We all have those mornings when taking time to put together a look is just not going to happen. When this occurs, turn to a crisp white button-down. As for your bottoms? Anything will work, be it tailored trousers or a flowy skirt.
Sweater Weather
Is it really November if you don't rock a Fair Isle sweater at least once? Debatable. Dress up the relaxed knit with a slinky silk skirt and sophisticated pump.
Out-Of-The-Box Trench
It's hard to deny the allure of a unique trench coat. Throw it on as you head out the door, and you'll look put together in one fell swoop.
Haute Hoisery
Statement tights are the perfect foil to a bright miniskirt. And since you're already getting adventurous with your outfit, maybe swap your boots for an open-toe sandal? We'll leave that decision up to you.
Cool Quilt
Combat the chilly temps in a joy-sparking blue quilted topper. Feel free to keep on your at-home sweats because all eyes will be on your outerwear.
Micro Mini
Sure, a super short skirt isn't the most practical option in November, but it can still be worn. An idea: Balance out the look with a toasty turtleneck sweater and tube socks.
Bows On Bows
Bow-adorned sweaters are quietly having a moment right now (I've spotted a few on my IG feed this past month). Get ahead of the curve with Anthropologie's adorable cardigan below. You can also DIY the look with ribbon if you're the crafty type.
Color Play
Make November the month you tried out a new unexpected color combo. According to influencer Grece Ghanem, royal blue, fiery red, and hot pink is a surprisingly chic trio.
Romantic Jewelry
Your heart-shaped necklace needn't be reserved for date night or Valentine's Day. Wear it during the day with a relaxed denim look.
Unexpected Texture
On a mission to amp up your office style? A fringe or cutout leather skirt, like A.W.A.K.E. Mode's coveted style, will get the job done. Pair the piece with a top in a similar shade for a cohesive finish.
New Neutrals
An LBD will always be chic, but the styling potential of a brown number shouldn't be overlooked, either. Accessorize the piece with polished pearls or a funky statement earring — whatever your heart desires.
Fancy Flats
If you're splurging on one new shoe this season, a white ballet slipper should be a top contender. The look is chic, comfy, versatile — what an overachiever!
Everyday Hat
A cute hat has so many perks. For starters, you don't need to worry about styling your hair. Another reason to reach for the piece? It gives any look some cool girl attitude.
24/7 Denim
If you've been leaning toward the same medium-wash denim for years, consider branching out this month by going a notch darker. As exhibited here, the color pairs well with rich autumn-approved shades.
Vibrant Bag
Punch up your look with a vibrant bag, like a purple or pink style. Then, continue the fun with a printed pullover.
Cool Kicks
Before switching to snow boots in a few months, make the most of your classic white (and off-white) sneakers. A busy day of walking around town sounds like a good opportunity to pull them out.
Hair Flair
You don't need to go out for holiday parties. Just add a hint of glamour to your outfit via a hair ribbon.