How To Master The Art Of Daytime Sequins Once & For All
It'll double your outfit possibilities.
@greceghanem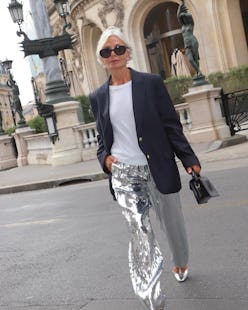 The arrival of the holiday season serves as a cue to break out the MVPs of festive textures: Velvet! Feathers! Lamé! It's a time of year when gatherings and parties are weekly occurrences and your after-hours wardrobe kicks into high gear. But when it comes to what you're wearing during the day, these celebratory details don't always get as much air time. Understandably, it's not easy to translate something like a bow-embellished party dress to the office; but daytime sequin outfits, on the other hand, are easier to pull off than you might think.
The secret to making paillettes and spangly embellishment work before dark comes down to two key elements: which sparkly piece you choose, and how you decide to style it. For example, some light-catching separates incorporate sequins in a way that feels subtle, which allows plenty of wardrobe flexibility. "You can temper the glamour of sequins by opting for a relaxed, casual silhouette," A.L.C. Founder Andrea Lieberman tells TZR, who introduced shimmering wide-leg cargo pants for the season. "I'd pair them with a roomy boyfriend sweater. It feels unexpected yet unfussy, which is exactly the balance you want to strike with daytime sequins."
Lieberman also points to closet staples like soft knits and lived-in denim silhouettes as ideal complements for something more showy. "The juxtaposition keeps the shine from feeling too precious." You can also lean on accessories to help adapt your sequins to your daytime look. "Follow the age-old rule of 'wrong shoe theory', as coined by Allison Bornstein, to make sequins wearable and practical for day," celebrity stylist Carly Landig tells TZR, pointing to loafer (perhaps with socks?) and ballet flats as two foolproof options for toning down the glitz. From there, she suggests keeping the rest of your accessories on the minimal side. "[It creates] a balanced look."
Of course, sometimes it helps to just have a flawless outfit formula to copy. TZR has gathered eight ahead, all centered around dressing sequined styles down for the day.
Layered Over a Crisp Shirt
Don't wait until New Year's Eve to wear your disco ball dress — simply layer it over a crisp striped shirt for a more casual take on the party go-to. Add nuance to the look by accessorizing with unexpected footwear — think platform loafers rather than straight up pumps. As for jewelry? Keep it simple with a silver chainlink bracelet to pick up metal tones in the dress.
Just A Hint Of Sparkle
Miu Miu has been championing the embellished trend as of late by way of bedazzled and bedecked basics. This jersey dress feels like the perfect daytime piece thanks to the embroidered sequins, relaxed fabric, and slate grey color. Depending on the weather you can wear it with tap shorts or trousers underneath; and — as illustrated above — it looks especially charming with accessories, like a lace collar and menswear-inspired shoes.
With A Blazer On Top
Nothing transforms a flashy fabric like a suit jacket. Whether it's worn over a skirt, or in this case, a pair of disco ball pants, this combination of "business and pleasure" styling separates comes across as well-balanced and joyful. Keep the rest of the look low-key — a slouchy tee and a classic black bag should do just fine.
With Plenty Of Neutral Hues
Make an iridescent midi work for your 9-to-5 plans by pairing it with a classic black turtleneck and refined, everyday accessories like a gold pendant necklace, black handbag, and sleek mules. Forecast looking chilly? Just toss a trench coat on top.
Balanced By Baggy Denim
Offset a glamorous blazer with everyday essentials like a classic white tee, loose-fitting jeans, and your favorite slide-on footwear. A versatile and polished combination, it works equally well for an at-home dinner party and a holiday outing with friends.
Topped With A Sweatshirt
It wasn't that long ago that sweatshirts were relegated to lounging around one's home. Thanks to the rise of athleisure, though, it's now more than acceptable to wear the laidback silhouette with dressier pieces for a high-low effect. This gray crewneck with sequin tweed trousers combination perfectly illustrates how to strike the right balance.
Balanced With a Classic Sweater
A classic knit is the MVP of any cold-weather wardrobe and it works particularly well with sequined separates like a glitzy skirt. Layer a white boyfriend tee underneath to add dimension to the look and finish off the outfit with neutral-hued accessories, like a staple black bag and slingback heels.
A Bag That Shimmers and Shines
If you're interested in a daytime sequin look that feels especially low-key, consider a sparkly bag in lieu of something like a dress or skirt. A shimmering accessory looks unexpected and cool worn with laidback separates like a graphic tee, denim, and a ballet shoe shape.