Simone Rocha's Fall/Winter 2023 Collection Featured Straw-Stuffed Ball Gowns
Yes, you heard that right.
Dean Chapple/Shutterstock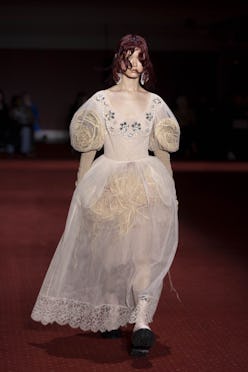 It seems with each passing season since her London Fashion Week debut in 2010, Simone Rocha has ascended on a tulle cloud a bit higher and higher from earth. Whimsical confections of bows, rhinestones, and voluminous silhouettes have become staples of the designer's namesake label, creating a dream-like world that is predictable in the best way. But, in a plot twist that fans of the brand did not see coming, the Irish talent took a more grounded, almost rural, approach for her Fall/Winter 2023 showcase. In fact, according to Rocha, her latest collection was inspired by the Celtic harvest holiday Lughnasadh, which honors the god of craftsmanship Lugh and has been observed in Ireland and Scotland as far back as the 16th century.
In a recent interview with Harper's Bazaar ahead of her Feb. 18 showing at Westminster Central Hall, Rocha referenced the ancient pagan festival, and described her new installment as more "rooted and very close to the earth" as opposed to season's past which have been decidedly more "aerated" and "'up in the air." Rocha was not being figurative, as she sent models down the runway in ball gowns stuffed with straw, elegant tailored suits with dangling straw at the sleeves, and, in a truly awe-inspiring moment, a dress woven entirely by, that's right, straw. Likely inspired by the grain ceremoniously harvested during Lughnasadh, the stiff natural material may have been a departure from the more luxe materials Rocha is known for, but it certainly aligned with the designer's love for interesting and unexpected textures.
Artisanal elements seen in Rocha's showcase were also likely a nod to Lughnasadh; more modern traditions of the holiday include arts and crafts fairs and markets. So, in turn, crochet sweater vests and gowns and knit-woven pockets and handbags were aplenty, as were ribbons and bows (Rocha staples), which were strategically placed from head to toe. Puff-sleeved, ruffled dresses featuring multiple patterns and materials were brilliantly sewn together in an elevated take on patchwork.
Dean Chapple/Shutterstock
And while expecting the unexpected was certainly the theme of the evening, it's worth noting that Rocha's fall/winter showcase was not without some key signatures of the label that extend beyond dainty ribbons and jewels. Rocha's penchant for seamlessly contrasting the traditionally feminine and masculine was present in her latest presentation. Slinky sheer slip dresses with scalloped trimming and bell-shaped ball gowns were paired with clunky lug-sole boots. Oversized lace blouses draped in detached bejeweled collars and pearls were paired with roomy utilitarian trousers. Rocha also jumped on the formal outerwear trend that's been sweeping fashion month — particularly at NYFW — transforming a traditional nylon bomber jacket into a tiered, formal frock.
Ahead, see highlights from the stunning and masterful collection for yourself.