I Swear By These Leggings Outfit Ideas On Days I *Can't* With Real Pants
They're fashion girl-approved.
Rebecca Iloulian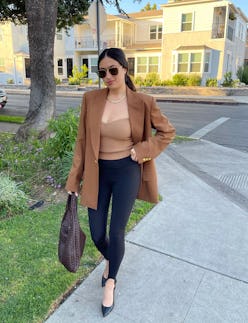 We may receive a portion of sales if you purchase a product through a link in this article.
Despite my closet full of opulent coats and (way too many) boots, I've always struggled with winter dressing, particularly in the pants department. Getting out of bed is struggle enough when the weather is cold and bleak — but getting out of my sweats, too? It's an entirely different hurdle to clear. To me, nothing is less appealing on those dreary days than shimmying into a pair of fitted jeans or tights. I have sensitive, itch-prone skin, and when conditions are cold and dry, I simply hate the feeling of wearing anything other than soft materials. That's when I find myself coming back to my favorite leggings outfit ideas. Luckily, the trend cycle has me covered, as stretch pants are officially acceptable (dare I even say in style?) again. And believe it or not, there *is* a way to look cool while wearing them. Hear me out.
Leggings may not have the best reputation when it comes to style outside the gym, yet they are undeniably a wardrobe staple. And the cozy basic has far more versatility than one might expect. Of course, they're an obvious choice for a casual weekend outfit, but they can also be worn in a more sophisticated way when you add in more polished pieces, like a colorful jacket or oversized blazer. Plus, there are so many elevated options out there right now with eye-catching textures (like leather and ribbed fabric) and trend-forward silhouettes (think stirrups or split hem bottoms). Sure, leggings are simple — but, as part of a thoughtfully put together outfit, they're hardly boring.
After spending the last few years mastering the art of dressing up my leggings, I've honed in on a few favorite formulas that I turn to time and again. Ahead, find five looks I swear by for looking like a fashion girl.
Stirrup Leggings + Heels
Stirrup leggings are having a moment and I am here for this '80s revival. It's the ultimate combination of elegance and ease. For a more dressed-up effect, I'll pair mine with pumps or slingback heels, a blazer, and maximalist jewelry (although they also have a nice casual vibe with ballet flats or loafers). If you dare, opt for a brown or beige-toned pair of stirrup leggings instead of black — you'll definitely make a statement.
Oversized Button Down + Sweater
Edward Berthelot/Getty Images
Jeremy Moeller/Getty Images
This is my go-to, no matter the season. I love the preppy mood of the mix, and that all the items involved are timeless wardrobe essentials. An oversized button-down is inherently chic and so easy — it's a win-win. If it's chilly I'll throw on a crew neck sweater and let the shirting peak out from the bottom, and pop out the collar. You could also throw on an oversized knit vest for a similar effect. I pair the look with flat boots (lug-sole or riding) or with chunky loafers and a ruffled ankle sock.
Vest + High Socks + Sneakers
While I've never found vests to be particularly practical, they certainly make a legging-based outfit look cool. Layer one with a fitted long-sleeve T-shirt or an oversized crewneck sweatshirt and, for a fun and sporty feel, accessorize high socks, sneakers, and a baseball cap.
Belted Blazer + Lug Sole Boots
The leggings-and-blazer combo is a must-try for many an occasion, be it going to the office or running weekend errands. To add a little more shape to the silhouette, try cinching with a belt, and add a little edge with a lug-sole boot.
Cowboy Boots + Oversized Sweater
I am downright obsessed with my cowboy boots. White patent leather with a blue and silver buckle, they are the easiest way to make a basic outfit look infinitely more interesting. When I need to be cozy and comfortable, this mash-up is my favorite: an oversized sweater — I like something more neutral, a grey, beige, or baby blue — Western kicks, and, of course, leggings. If it's cold, I'll top things off with a long, slouchy coat, or maybe a leather jacket or a floor-sweeping duster. This outfit always gets me compliments. The boots make the statement!