The Best Fashion Tricks We've Learned From Jenna Lyons
Get your notes app ready.
@jennalyons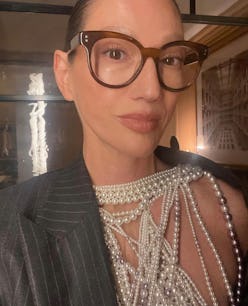 Jenna Lyons is living her best life. The style guru stars in The Real Housewives of New York City's reboot, and steals every scene with her witty commentary — all while growing her three-year-old fake lashes beauty brand, LoveSeen. Her Instagram is currently filled with glamorous vacation photos (mainly taken by her famous fashion photographer paramour) documenting her summer spent kicking it back in lavish designer numbers. Everyone is talking about Lyons right now, and for good reason: The designer-turned-reality star is having the best time and looking fabulous in the process.
And why wouldn't she? Those who have been following Lyons for years know she built a successful career creating fun, feel-good clothing for women. It all started at the age of 21, when a straight-out-of-Parsons Lyons was hired as an assistant menswear designer at J.Crew and began climbing the company's ranks. By the time she was appointed creative director in 2010, she had made the mall chain a major player in the high fashion world, thanks in no small part to her distinct personal style. (Fun fact: In 2013, New York Times dubbed Lyons "The Woman Who Dresses America.") That's because Lyons knows how to turn a wrong outfit formula into something so right. Sequins as daywear, pajamas with stilettos, double denim dripping with jewels — she made it all look effortless and cool.
And while Lyons' head-turning looks surely raised a few eyebrows at the time, they've become the norm today, and are a testament to her staying power. Should you want further proof of her fashion prowess, we've compiled a free cheat sheet, if you will, of the industry insider's most enduring style lessons. And when you're still feeling sartorially stumped, just think: WWJLW? (What would Jenna Lyons wear?)
Denim Jackets Go With Everything
If you've been staying up to date with Lyons' looks over the years, you've likely noticed a common thread: Her denim jackets. But her most iconic dungaree outerwear moment may have been at the 2012 Met Gala, when she took to the museum's stairs wearing the casual piece and a flashy hot pink bow-adorned midi skirt. Lyons often wore her signature denim topper to fashion week, too, with jeans and statement pants alike (see: the jean jacket and camo trousers outfit she rocked at an Altuzarra show in 2017). In short: She proved there's nothing the silhouette won't work with.
Always Go For The Statement Jewelry
Close your eyes and picture the bubble necklaces you wore circa 2010, perhaps to a summer wedding or, in my case, for a fun high school outfit. Well, we wouldn't have those (sometimes cringy) fashion memories if it wasn't for the J.Crew alum, who made outsize funky jewelry a full-blown trend. No bauble was too big in Lyons' mind.
But of course, many of the newer (and more subtle) styles on the market wouldn't exist now without Lyons' bold creations — and the latest updates are very fun. Look to fashion girl-favorite brands like Brinker & Eliza, Serendipitous Project, and éliou for playful iterations that feel more 2023.
Print Mixing Is Easier Than You May Think
Working various patterns in an outfit can, understandably, be daunting for some. But as Lyons' style file proves, there are chic ways to approach the attention-grabbing look. In the past, the internet sensation opted for some striking combinations, such as the stripe and floral mash-up she wore to a J.Crew presentation at fashion week in 2013, as seen above. Other times, Lyons hit the streets of Manhattan in a sailor tee and leopard clutch.
On the runways as of late, zany pattern pairings have been the look du jour. Take, for example, the polka dot and floral outfits at Erdem's Fall/Winter 2023 show and La Double J's stripes and abstract motif combo for Spring/Summer 2023.
Chunky Glasses Are Seriously Cool
Most fashion insiders have a signature piece or two (see: Jane Birkin's woven basket bags) — and anyone whose seen photos of Lyons knows that her chunky frames set her eyewear apart from the rest. Honestly, you'd probably have a hard time recognizing her without dark-rimmed specs, which have since become a go-to amongst the Hollywood set. Celebrities, including Anne Hathaway and Jennifer Lopez, have taken note in recent years, adopting the look for public appearances. Have perfect vision? Find a pair of non-prescription glasses! Lyons would want you to.
Pajamas Aren't Just Meant For Bed
Lyons kicked off the pajama dressing trend with her polished approach to the look. See, for instance, this luxe print PJ set the former creative director wore to Prabal Gurung's runway show in September 2016. Lyons also wasn't afraid to complete the sleepwear look with a pair of stilettos (hello, Wrong-Shoe Theory). In other words, Lyons' silky separates walked so Pernille Teisbaek's poplin PJs — the influencer's new signature look — could run.