Moon Boots Are Omnipresent Right Now — Here's How To Wear Them
They're out of this world.
@annikawhite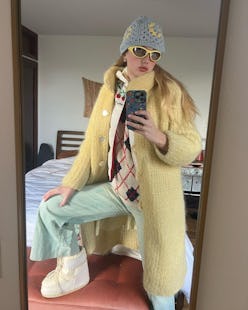 We may receive a portion of sales if you purchase a product through a link in this article.
Bling-y Juicy Couture tracksuits, ultra-fuzzy Ugg boots... if you're a millennial or simply on TikTok, you know where I'm going with this. Y2K has been at the forefront of fashion over the past few seasons — and if you thought there couldn't possibly be another early aughts It piece to reemerge, think again. Moon Boot's futuristic-looking shoes, a favorite of fashion icons like Paris Hilton and Victoria Beckham back in the '00s, are taking off — and the label's newest styles are out of this world (sorry, had to).
Not familiar with the brand's roots? Here's a quick history lesson: As you probably already guessed, the Moon Boot's bold silhouette was inspired by the 1969 Apollo 11 moon landing — more specifically, the antigravity boots Neil Armstrong and his fellow astronauts wore. Founded that same year by Italian entrepreneur Giancarlo Zanatta, Moon Boot steadily gained traction in the following decades; by the early aughts, they were a mainstay on the fashion scene. (Fun fact: over 25 million pairs have been sold to date, according to Footwear News.)
Unsurprisingly, the recent hype around Moon Boots is linked to its celebrity fan base: A-listers like Dua Lipa, Tracee Ellis Ross, and Madonna have all been parading around in puffy pairs. But on a larger scale, Rita Melssen, Madonna's go-to stylist (and Moon Boot enthusiast!), believes the comeback is because "We are officially living in the once fantasized and predicted "future" and fashion is mirroring that reality." And since the brand was created as a homage to astronaut boots, the stylist feels the sci-fi, futuristic look is relevant in 2023.
Sure, the larger-than-life silhouette might not feel like the easiest to pull off — but it's actually quite simple to wear than you might think (even if you're not one to partake in snow sports). Melssen says the boot can be paired with virtually any piece hanging in your closet; however, she has a few specific looks in mind. "I love the juxtaposition of them with a vintage bias cut slip dress or a mini dress, or big baggy pants and tee," she says. "Anything goes, just have fun."
For more Moon Boot styling inspiration, keep scrolling to find six outfit ideas.
Street Style Approved
Non-skiers, rejoice: You don't need to be near a snowy mountain to wear a pair of Moon Boots. In fact, they've become a street style must-have, especially during fashion month. Give your boots some urban edge via a cool trench and an of-the-moment pleated skirt.
Green Queen
Sometimes the best way to lift your spirits in the winter is by wearing bright, cheery colors. Tracee Ellis Ross proves this theory to be true in the video above, where she's all smiles in her lime green Moon Boot and coordinating jacket.
Throw It Back
If you gave away your Juicy Couture tracksuit (sad!) but love the velour two-piece comeback, Rotate's iteration will do the trick. Keep the Y2K vibes going with a goldenrod Moon Boot.
Keep It Simple
Minimalists, this one's for you. Your Moon Boot outfit can easily be toned-down to fit your personal aesthetic — all you need is a pair of white boots and neutral separates, and you're good to go.
Ski Season
Hitting the slopes? Team your Moon Boots with trusty ski day essentials, like a puffer and snowsuit. The chill-busting look will easily take you from chairlift to fireside (with a hot toddy in hand, of course).
Fuzzy Feels
A brutal blizzard forecast doesn't mean you need to compromise style for comfort. The trick? Pile on as many fuzzy pieces as possible. And if it just so happens to be slushy out, a pair of snow-ready Moon Boots will surely come in handy.