Perfect Combat Boot Outfits To Wear Now & Later
They go with everything in your closet.
@karenbritchick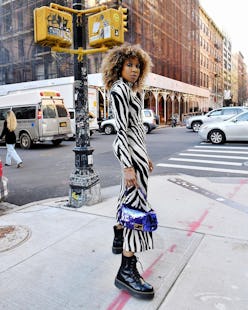 Utilitarian, lace-up ankle boots are a staple you wear year after year without giving much thought to their sartorial value — they're weatherproof and practical, never really out of fashion, but not usually categorized as something overly trendy. That is, until now. The latest designer collections have propelled the chunky shoe into this year's trending top slot, taking it from an inclement-weather standby to one of the most coveted, wear-everywhere items of 2022 — yes, even during the spring and summer months.
The style was a staple on some of the biggest Spring/Summer 2022 runways, including Valentino (where it was paired with flouncy, highlighter bright mini dresses), Alexander McQueen (balanced out by bare legs and sheer tutus), and Dior (knee-high with a sliver of skin showing in the front). The takeaway? If you want to wear combat boots this summer, just lighten up the rest of your look — be it in fabric or color — to contrast the heavy, chunky sole design.
This sort of lug sole footwear may be rooted in the gritty vibes of military garb or the irreverent punk-rock scene, but there are so many ways to expand the look. Just look to Instagram's finest fashion mavericks, who have been showcasing a greater range beyond the traditional rough-and-tumble aesthetic. Some fashion girls are exemplifying a nonconformist, girly-meets-grunge clash by paring their sturdy combat boots with dreamy, almost saccharine dresses.
Others, meanwhile, allow their footwear to provide the statement impact of their outfit and opt for boots like Prada's cargo-pocket style that are absolutely dripping with cool-girl appeal. And, of course, there's always a trusty pair of Dr. Martens — aka the grunge-inspired blueprint for lace-up footwear, which pairs flawlessly with nearly any garment imaginable.
Whether you contrast your sturdy stompers with something soft and feminine like a printed maxi dress or a pastel color palette, or you lean into the army theme with a structured jacket and tucked-in trousers — or assemble an outfit that's somewhere in between — now is the time to go all-out G.I. Jane.
Ahead, TZR has gathered perfect combat boot outfits ideas to try, both as summer heats up — and when the temperatures cool in a few months (hey, fall will come faster than you think).
We at TZR only include products that have been independently selected by our editors. We may receive a portion of sales if you purchase a product through a link in this article.
All About Balance
Tough boots are perfect for balancing out the dreamy vibe of a puffy-sleeve dress. For an extreme clash of feminine and grunge, try one of Selkie's airy and voluminous frocks paired with a boot in a trendy platform design.
Pop Of Color
A bold bag calls for a bold shoe that can keep up. Start with a handbag in a vibrant shade and then, to balance out your ensemble, curate a neutrally-hued outfit of a simple white dress, a black waistcoat, and hefty, knee-high lace-up boots.
Day To Night
Never have austere military boots felt more elegant than when you put them with a dressy frock that exudes polished sophistication. For this unexpected combination, choose a boot style that's on the slicker, more polished side of the spectrum. Case in point: Kendall Miles' sleek and low-heeled pair.
Free-Spirited Chic
Combat boots may not be the most obvious partner for a billowy midi dress, but together they become this cool mix of insouciant go-getter and graceful bohème.
Cool Checks
Checkered prints and clunky combat boots are a match made in grunge heaven. Update the '90s throwback look by swapping out the standard flannel shirt for a patterned dress. Slip into a pair of platform boots, like Dr. Marten's sleek leather iteration, accessorize with a printed ascot scarf either around your neck or in your hair, and you're ready to rock and roll.
Polished Separates
For a less severe look that feels more "classically minimalist" than "lead singer of an underground garage band," opt for an earthy color palette (think brown, olive, and tan). Sophisticated, timeless pieces — like a trench coat and a structured bag — are the ideal finishing touches.
A Non-Black Boot
If you'd like to replicate the anti-colorful look of a black combat boot but want to veer from tradition (which, let's be honest, is a tenet at the core of grunge ideology) try a shoe in a light cream colorway. Continue the brightly-hued momentum via your clothing by piecing together a monochromatic ensemble in a dusty pastel hue.
'90s-Inspired
Take your style cues from a late-'90s Kate Moss and wear your favorite silky slip dress with some lace-up, take-no-prisoners combat boots. A slip and boot combo is ideal for colder weather since you can layer other garments underneath and atop your dress until your heart's content. Pick up a purse that boasts the It-girl-approved pastrycore design — à la JW Pei's ruched croissant-like Gabbi Bag — and then stomp on out the door.
Head-To-Toe Leather
If all else fails, express your inner biker chick and sport an all-leather look. For an additional dose of edge, opt for a leather boot that laces all the way up to your knees.
All-Over Polish
Whether you're going back into the office or still working from home, consider pulling your favorite suit out. But instead of leather or loafers, give the polished set an edgy touch with a pair of combat boots.