Have You Met The "Gloomy Girl"? She's Going To Be Everywhere This Fall
Goth style takes a sweeter, softer turn.
@thepouf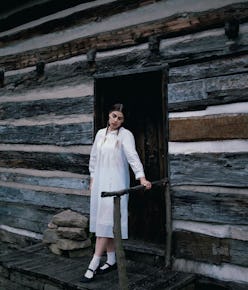 While many have taken a bite out of Tomato Girl Summer — or any one of the adjacent European-core aesthetics out there — another trend has quietly emerged in the shadows: clothes with an air of melancholy-filled nostalgia that's anything but depressing. A moodier cousin to last year's popular whimsigoth look, the style marries retro Bladerunner sophistication with Southern Gothic folklore. This Goth-adjacent look has been championed by brands like Batsheva and The Vampire's Wife, and seen on fall runways the likes of Zimmerman, Simone Rocha, Rodarte, and Erdem — picture flouncy black and white dresses, delicate hair bows, and big collared blouses. And while it's been picking up steam all summer, the overall style is eerie and Halloween-friendly enough to stick around through pumpkin spice season.
How exactly might one define this emerging "gloomy" yet girlish fashion girl? Well, it depends. These gals might be spotted reading an Edgar Allen Poe novel, safe from the sun's blistering rays from a delicate parasol positioned just so. Or maybe you've encountered one perfecting her winged eyeliner in a Pilates studio mirror. You could have spied her creeping into that infamous abandoned manse down the street, curious to discover what's inside. Regardless, this vibe is underpinned by a sense of curiosity, experimentation, and a devil-may-care attitude. Think The Beguiled meets Virgin Suicides with strands of French New Wave braided in.
"I love a sense of mystery," says Christina Grasso, writer, art director, and co-founder of The Chain, an eating disorder recovery support group for folks working in fashion and entertainment. "I appreciate drama and a sort of tragic essence, but with a very dark sense of humor — I don't take myself too seriously at all." Grasso, a doyen of the look, counts everyone from the Olsen twins to Catherine Deneuve to Catholic nuns among her stalwart style guides. Here, she, alongside other industry players, share how they approach the look — and how you can, too.
Black Magic
Step 1 to securing the style? Prepare (unsurprisingly) to wear a lot of black — or at least moody neutral tones. Perhaps you look for pieces that appear lightly faded, almost dusty, as if just liberated from a hidden trunk nestled in an attic's dark corner.
Sara Croft, an art director and content creator in Calgary, Canada, finds that wearing a monochromatic palette enables play with texture, material, and shape. "I only wear black, but I certainly wouldn't fall under the minimalistic category," she says. "I love mixing feminine and frilly pieces with edgier ones and playing with different textures and silhouettes."
Likewise, Josephine Meng, a Berlin-based photographer, likes the tones of her outfits to feel somber and enigmatic. "I like flesh and blood colors and that might seem 'dark' to some people, but I find it melancholic. Everything I wear is usually pretty old and falling apart, but I like that."
Alternatively, oversize patterns of whimsical notions and forgotten florals resonate with this look, too. It's a little Arsenic and Old Lace mixed with lady of the manor elements, which can be found in Susie Cave's line The Vampire's Wife. When introducing prints into your outfit, though, keep any underpinnings like tights and bras in understated tones. This will evoke a major mood factor, as illustrated in Erdem's Fall 2023 collection.
Bow Down
Rodarte Fall 2023 Giovanni Giannoni/WWD/Getty Images
Simone Rocha Fall/Winter 2023Victor VIRGILE/Gamma-Rapho/Getty Images
Bows are a gloomy girl's signature accessory — and luckily, there was near-endless inspiration on the runway this season: See Alessandra Rich's boudoir-inspired pieces and Jacquemus' tie-front blouses. Simple drop earrings, cocktail rings, and slouched socks inject a fanciful element that energizes the overall effect, too. Combatting with some hefty humidity? Grab a bonnet or veil, two of Grasso's top accessories for the season, perfect for taming unruly locks.
In terms of footwear, chunky Mary Janes, tasseled loafers (reach for Prada's styles and you can't go wrong), sharp as nails stilettos, or worn-to-threads trainers can complement just about every look.
Nighty Night
Nightgowns of many varieties, whether they be flimsy lingerie or modest cotton versions, can double as a gloomy girl's day dress. And styled properly, the addition of pantaloons, bloomers, and gussied-up underwear can be playful and fun addition, like the delightfully creepy doll stashed in your grandmother's closet might wear. Meanwhile, classic cotton separates harken back to an homage to that last disillusioned, hazy summer spent by the sisters in The Virgin Suicides.
For Daniela Garza, a filmmaker in New York, wearing intimates as outerwear is a return to playing dress up as a child. "I find myself living in Cou Cou Intimates, similar to when my mom used to dress me in the same kind of tank tops and undies."
Slouch, Shoulder, & Cinch
Rodarte Fall/Winter 2023Taylor Hill/WireImage/Getty Images
Erdem Fall/Winter 2023Francisco Gomez de Villaboa/WWD/Getty Images
Aim to incorporate a variety of silhouettes in your looks: Use shapeless nightgowns to offset bulky Mary Janes, balance mutton-sleeve blouses with pencil skirts, and throw washed cotton dresses over sturdy cowboy boots. These dissonance-filled combinations make the finished product otherworldly and unpredictable. Reaching for a slouchy pair of oversize bloomers? Think about completing your look with a chiseled, menswear-inspired blazer.
"I think tension is what makes a look compelling and interesting," explains Grasso. "For instance, if I'm wearing a dress or a nightgown in the summer that leans super feminine, I'll do a combat boot, a black Mary Jane, or a white trainer, and maybe add a little winged eyeliner to give everything a bit more edge."
Another surprise factor worth throwing in? Capes of varying textures, lengths, and materials. These statement pieces will evoke feminine formality into outfits — and can serve as a counterpoint to more casual vibes. If you're searching to add pieces in preparation for fall, look no further than Rodarte's Fall 2023 collection for inspiration, which showcased hip-grazing and floor-sweeping options crafted from lush velvets and delicate lace.
World Building
This trend is all about voluntarily slipping down a rabbit hole of your dark imagination and, therefore, it naturally begs for a playlist. What's on Grasso's? Florence and the Machine, Stevie Nicks, Ethel Cain, and The Hollies. Croft has Noah Cyrus' newest album The Hardest Part on repeat. And sad girl savant Lana del Rey naturally appears on Meng's end-of-summer soundtrack.
Both Grasso and Croft also recommend tuning into your mood and overall goal vibe instead of looking for obvious trendy pieces to put an original spin on your look.
"Sometimes there's a specific piece or an accessory I want to style, but usually it's just a mood [that informs my look]," says Grasso. "I always want to feel like myself in it, whether that's a tailored trench coat and a pair of black cigarette pants, or a black feathered cape."
Once you have a handle on what your closet is lacking, be sure to give local vintage shops a visit, too. "I would suggest going through your closet and taking inventory of what you have and what you might want or need, and make a list in your Notes app," advises Grasso. "Building a wardrobe that is considered and soulful, particularly one that will stand the test of time, it takes a while, but helps minimize unnecessary or impulse purchases, and makes it easier to hunt when looking for vintage or secondhand items."