Celebrities Like Nicola Peltz Beckham Are All Wearing H&M's New Design Collection
John Sciulli/WireImage/Getty Images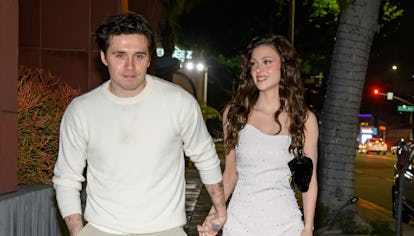 We may receive a portion of sales if you purchase a product through a link in this article.
Now that the temperatures are firmly in the 60s, your weekends are likely brimming with outdoor weddings, birthday get-togethers at the park (happy Aries season, baby), and rooftop parties. With so many events to celebrate, you're likely already thinking about your outfits. Do I go for a dress? A two-piece set? Dressed up jeans? If you feel like you're lacking the appropriate pieces in your closet right now, turn your attention to H&M's new evening-ready and eco-friendly design collection, entitled Innovation Re-Enchantment Story. The items — a range of glitzy '60s-inspired styles made from 100% recycled sequins, rhinestones, and beads — are already a hit with celebrities like Nicola Peltz Beckham, Halle Bailey, and Samara Weaving.
First up, on March 20, Peltz Beckham wore the collection's Rhinestone-Embellished Bandeau Dress for a date night in Los Angeles with husband, Brooklyn Peltz Beckham (unfortunately, her exact style is sold out at the moment). She wore the eye-catching mini with knee-high leather boots and translucent tights for the romantic evening. Bailey, too, is a fan of the new earth-friendly collection, specifically the Asymmetric Gathered Jersey Dress. The Little Mermaid actor's outfit felt chic and understated, as she ditched flashy jewelry for a simple pair of earrings to go with her LBD. Then there was Weaving, who picked H&M's new highlighter-hued embellished set for an appearance on The Late Late Show With James Corden last month. Although Hollywood stars often flock to luxury designer looks for public appearances, they're evidently shifting gears here, opting for more wallet-friendly finds from H&M.
Courtesy of CBS/PHOTOGRAPHER: Terence Patrick
John Sciulli/WireImage/Getty Images
Gerardo Mora/GC Images/Getty Images
The new eco-friendly range, which is now available to shop online and at H&M's Williamsburg location, is a major breakthrough for the Swedish retailer, according to Ella Soccorsi, the assortment designer at H&M. "The embellishments in this collection represent a milestone for H&M, marking the progress made over the last eight years from 50% recycled-content sequins in the 2015 Conscious Exclusive collection to 100% recycled-content sequins, rhinestones, and beads in our current Innovation Re-Enchantment Design Story collection," she explains.
What materials did H&M source to create the eye-catching embellishments? Well, for starters, the emerald green and citrine yellow mini dresses boast sequins crafted from PET plastic bottles. Meanwhile, the rhinestones and beads are composed from recycled plastic display shelves and boxes. On the accessories front, the platform shoes feature an organic silk and viscose blend — in particular, LENZING™ ECOVERO™ viscose derived from renewable wood sources — and all the jewelry was crafted with post-consumer recycled brass.
As you browse through the products, you may also find yourself loving the line's bold summery shades. "The beautiful color palette of natural crystals and minerals really served as the inspiration behind the pieces, and we worked to bring them to life in shades of emerald green, citrine-yellow, and pearly whites," says Soccorsi. "The 100% recycled-content sequins, rhinestones, and beads went hand-in-hand with the color palette of the collection, and together created something breathtaking."
If you can't decide which look to snag for your next summer soirée, Soccorsi can point you in a specific direction. "The bold citrine-yellow hue of the Embellished Mesh Pants and Embellished Mesh Anorak-Style Shirt is a standout set, featuring mesh made from recycled polyester from plastic bottles and recycled embellishments," she explains. "This coordinated look is perfect for the bold and fashion-forward shopper." And for minimalists, the expert points to the understated Asymmetric Gathered Jersey Dress, which, as noted, already has Bailey's stamp of approval.
If a particular piece has caught your eye, add it into your checkout cart STAT — styles are quickly selling out. Shop TZR's favorite party-bound items from the collection below.