The Best Fashion Campaigns To Put On Your Fall 2023 Mood Board
Who else wants this red Prada coat?
Willy Vanderperre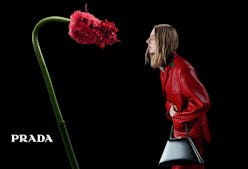 In fashion, it's never too early to start wearing the next trend or investing in that upcoming "It" item. So why not sneak a peek at what's to drop in stores and online in the coming months, and look to the Fall/Winter 2023 campaigns? You can expect to find cozy knits and embellished skirts at Prada while the look at Burberry is all about cold-weather gear like trench coats and rubber boots. These pieces are truly making us excited for #sweaterweather season (because we would like to trade this August heat for cool, crisp autumn air, please).
As you look through the imagery, you'll likely recognize familiar, prominent faces. Prada's star-studded modeling cast includes the likes of Black Panther actor Letitia Wright and Euphoria actor Hunter Schafer, and Miu Miu has invited its muse, actor Emma Corrin — you may know her from The Crown — back for another round of photos. And over at Vivienne Westwood, the brand's cast and campaign became a family affair, as those closest to the late designer star and execute its seasonal creative direction.
As we head into August and then, in a blink of an eye, September for fall, you'll want to keep the ads below in your back pocket. That way, when it's time to shop for a new fall bag or outfit, you know exactly where to look for inspo.
Prada
Prada's Fall/Winter 2023 campaign enlists a star-studded cast that includes Letitia Wright, Hunter Schafer, and Benedict Cumberbatch. The actors, dressed in an assortment of Prada's newest offerings are (naturally) "in conversation" with a flower. According to the press release, this motif is "a metaphor for humanity, used as an outer expression of our thoughts and feelings, we can find a synergy between flowers and an embodiment of the human experience..." Take the pictures as a sign to stop and smell the roses — while wearing Prada of course.
Miu Miu
The tone of Miu Miu's Fall/Winter 2023 campaign is one of sensuality and ease. You'll recall that Miuccia Prada delighted fans with crystal undies and sheer skirts on the runway back in March and now those same skivvy-forward looks you eyed on the catwalk will soon be available to shop. To promote the new seasonal lineup, the house tapped the likes of Emma Corrin, Mia Goth, and Zaya Wade to star in the ads.
Dior
Do we need this whole outfit? Yes, yes we do. Dior gives a lesson in the power of layering in its Fall/Winter 2023 campaign while spotlighting all the new must-have pieces for the season. You'll recall Maria Grazia Chiuri drew ideas for the designs from the wardrobes of Catherine Dior, Édith Piaf, and Juliette Gréco so expect a lot of timeless, elegant silhouettes like flared skirts and tailored blouses.
Burberry
Following up on Burberry's Fall/Winter 2023 collection — new Chief Creative Officer Daniel Lee's debut work for the brand — the accompanying campaign further embraces the label's heritage in dressing for the outdoors. The photos were shot around the Isle of Skye (in Scotland) and Giant's Causeway (in Northern Ireland) by Tyrone Lebon. Models wore protective and spirit-lifting trench coats, rubber boots, field jackets, blankets, and argyle jumpers — creations you'll soon see on every fashion girl and celebrity.
Vivienne Westwood
The seasonal campaign is a tribute to the late designer who founded her eponymous brand in 1971. Westwood's husband Andreas Kronthaler wrote in a statement that they shot the photos around the neighborhood of where she grew up, in Hollingworth, England, while the cast was composed of people near and dear to them, from Westwood's son Ben to Kronthaler's granddaughter Cora Corré. "We ended the day at Vivienne's grave and took a few pictures there. It felt very special to document this moment," Kronthaler said in the press release.