Fall Is Layering Season — Here's How To Get The Mix Right
These easy styling combos are 100% doable.
@LisaFolawiyo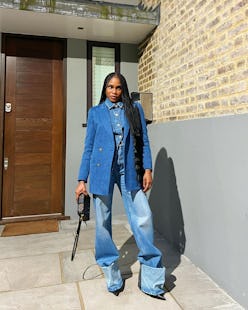 We may receive a portion of sales if you purchase a product through a link in this article.
Personally, I feel uninspired when trying to style outfits in the summertime. That's because I love to layer and, well, try doing that in 90-degree, hair sticking to your forehead kind of weather, and it instantly spells disaster. I'm reduced to a puddle of sweat by the time I make it from my apartment into the office. So when I say I'm very much looking forward to autumn — an optimal time for my fall layering ideas to flourish — I mean it. This season is my time to shine, I can break out the hats, scarves, maybe even a balaclava, while pairing summery slingback sandals with thicker socks or tights.
Mixing different types of pieces together is also the key to successful transitional dressing. "Layering is the best way to feel comfortable during a long day, whether you're going to the office or for an after-work drink," Lauren Nouchi, co-founder and creative director of APPARIS, tells TZR. "It's a great way to mix textures and add a pop of color to a chic outfit." Tight-fitting long-sleeves are ideal to wear under T-shirts, tank tops, and crisp, button-down shirts; meanwhile a sharp, tailored blazer works perfectly over a fluttery dress worn over pants. This is one of my favorite ways to double up: I love wearing skirts over another skirt or jackets on top of jackets. Nouchi's advice for pulling off this particular outfit is to combine different colors and fabrics together — like sequins and a cable knit knit or mint green with gray hues.
Below, you'll find six fall layering looks that are easy to throw together with items from your own wardrobe. And if you're missing any of the necessary pieces, TZR's provided a bevy of options to shop.
Matching Set + Long Sleeve Top
Not ready to put away your favorite warm-weather matching set? Simply layer a patterned or neutral long-sleeve top underneath to make it feel appropriate for autumn. Depending on your fashion preferences, you may go for an explosion of colors as seen on designer Lisa Folawiyo or a more muted black and white color palette. There's no wrong way to pull off this look, but if you want 100% assurance on this, pick up the pieces ahead and throw them on.
Tank + Tie + Button-Down Shirt
A silky black tie and a button-down always go together, but add an unexpected knit tank on top and suddenly you get an edgy perhaps even funky fashion editor-approved look. Then prep the outfit up with chunky black loafers.
Color + Texture
Get in touch with your inner child by mixing neons and bright shades with textured embellishments like sequins and beads. This outfit juxtaposes a two-tone chunky knit cardigan with a sparkly silk skirt. Complete your look with knee-high socks and slingback shoes for the elevated version of your middle school self.
Dress + Tights
A pair of thick tights does wonders to keep you warm when the night breeze blows by. The benefit of this hosiery is that you can style it under a mini dress, midi skirt, or even long trousers if you wish.
Skirt + Pants
Wearing a skirt (or dress) over a pair of pants is one of my favorite ways to add contrast and layers to an autumnal outfit. This may not be everyone's favorite trend, but it's an easy way to make your look standout amongst your friend group.
Draped Top + Button-Down Shirt
For those still mourning the end of summer travels, there's nothing that says vacation mode more than a cozy knit or pullover draped over the shoulders (think: a look you'd wear while strolling on the beach at sunset while your dog runs around the sand). You could even work in an additional layering element by styling a tee or tank underneath your button-down shirt.