Everyone, Including Myself, Will Be Wearing Slingback Heels In 2023
Christian Vierig/Getty Images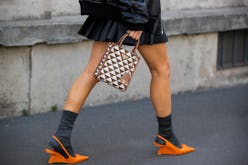 We may receive a portion of sales if you purchase a product through a link in this article.
Slowly but surely, I am filling up my closet with fewer trend-driven pieces and more timeless staples. But I still pick pieces that feel interesting. Recently I acquired a cozy toffee-brown Maje coat, lime-green trousers from HELSA, and a mohair gray sweater from Acne Studios because I realized I don't own any gray knits. (This is shocking for someone who works in fashion, I know!) It makes me feel good when I purchase items that I know I'll keep season after season. The latest thing on my wishlist? A pair of classic slingback heels. The elegant style has a rich history as its origins date back to the 1940s, when, according to Vogue, "sultry ankle straps and exposed heels were introduced on pin-up girls." Now, of course, the shoes can be adapted to any personal style.
While slingbacks are certainly nothing new, I was drawn to the design more than ever at the end of last year. The footwear seemed to pop up everywhere I turned, from retailers and runway imagery to celebrity Instagrams. I loved Gucci's delicate '90s-inspired slingbacks and Prada's take on the design, which incorporates a wedge heel (a look that happens to be trending for 2023 as well). I also spotted the silhouette during Spring/Summer 2023 fashion month at Salvatore Ferragamo and Versace, which further proved that the classic shoe is thriving and not going anywhere soon.
Celebrities are all about the look, too. I've noticed that Kendall Jenner has readily embraced the style — along with the pants-less trend — as well as Rihanna, who recently wore a pair of Jimmy Choo slingback pumps while promoting her latest Savage X Fenty collection. Katie Holmes has been photographed in a bright pink option from The Row while Dua Lipa is the proud owner of a Gucci pair I'd like for myself. I'm taking all these not-so-subtle hints as a sign that the timeless slingback should be my next purchase. Plus, they look fantastic with everything from pants and flouncy skirts to suit sets, so I know the right pair will only expand my wardrobe's potential.
Ahead, check out which slingbacks I have my eyes on — had I the budget, I'd buy every single pair — and see if any of them suit your personal tastes as well. Should any option speak to you, add them into your virtual checkout cart immediately.