The Staying Power Of Daniella Kallmeyer
After more than a decade in the industry, her brand is looking better than ever.
@conradoveliz for @kallmeyerofficial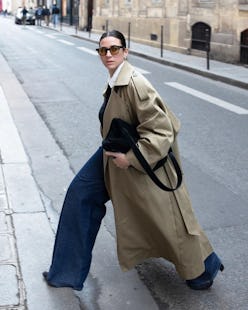 Kallmeyer clothing is everywhere right now. It is accompanying Katie Holmes through the Cannes press circuit and starring in selfies with Gwyneth Paltrow. Tastemakers are touting it in their newsletters; street style doyennes are posing in it outside of shows. Recognize the pieces or not, you really can't escape them.
But honestly who would want to? Kallmeyer has a way of taking very classic, simple even, styles and crafting them in a way that feels relevant right now and, frankly, enjoyable to wear. There's excellently tailored three-piece suits that can be deconstructed or worn as one full look, and snuggly knitwear that hangs loose with a sort of "I didn't try to look this good" sort of insouciance. The jeans are leggy, easy, and relaxed, but still appear quite polished. You can buy perfect-cut trousers in draped black viscose and buttery yellow satin. And while these merits have been earning the label loyal followers since its 2011 inception, the vibe fits particularly well with a certain omnipresent trend that rhymes with, ahem… riot ruxery.
When I point out the recent surge of brand visibility to founder and designer Daniella Kallmeyer over a Zoom call, she smiles in delight before turning serious and introspective for a moment. "I don't feel that different than I did nine years ago when I had first started," she says, crediting a great deal of her growth to growing a talented team behind-the-scenes. "I used to give this analogy a lot that I felt like I was in a NASCAR race, but I was the only driver for all of the cars, so no one can win. You drive a little bit; you get out; you run to the other car; you drive it a little bit; there's no actual moving forward."
John Phillips/Getty Images Entertainment
This makes complete sense for a brand new company trying to stay afloat, but I find myself thinking that Kallmeyer is not giving herself credit for the years of groundwork she laid by honing her look and building client relations. If we are speaking in metaphors here, I would like to offer an alternative analogy: In the late 2010s, the label was like a meticulously lined up set of dominos just waiting for someone to put something big and unstoppable in motion. In this case, you could posit the first block-tipping event was the opening of the line's first brick-and-mortar location in New York City's Lower East Side neighborhood in 2019. Although the location was not open to the public long before it closed for the first round of lockdowns, it provided a homebase for the designer to directly commune with her customers and cater to their specific and varied needs while working from home.
"We did a lot of promotions in the early pandemic days on our knitwear," recalls Kallmeyer of the turbulent spring of 2020, when she essentially turned her spanking new boutique into a warehouse and office run by one. "And actually what we sold out of was our suiting, because our core clientele was still a woman who had to work — and even if she went from a boardroom to a Zoom room, she still needed to make herself presentable." (As you might guess, blazer sales outpaced pant purchases during this time.) By June, when the world began slowly opening back up and it felt safe to start taking in-person appointments again, Kallmeyer had a stronger connection to her shoppers — and what they want to wear — than ever before. As the business became busier and busier, the industry at large began to take notice: simply Google search the label and you'll find out of the 12 years it's been around, its biggest blitz of media coverage has been in the last 12 months; meanwhile, it landed an official spot on the Council of Fashion Designers of America's New York Fashion Week calendar for the first time this past February, for the Fall/Winter 2023 season.
Kallmeyer herself is, unsurprisingly, no stranger to putting in the time and effort for what she wants. Born in South Africa, she would spend summers with her grandmother Rena in New York City's Riverdale neighborhood between intensive dance and figure skating programs. "She was a very elegant woman, you never saw her not in a matching set with jewels and all of that," remembers the designer, who spent the bulk of her childhood and teenage [years] training as a professional performer but dabbled in home sewing projects for fun. "So I had an attraction to fashion from an early age, and then in my formative years being so involved in hobbies that were very costume oriented." Cut to the chance to intern for the (now defunct) brand Luca Luca at age 16, and she was ready to start working toward a different goal: a career in fashion. It wasn't too long before she found herself studying at the London College of Fashion — followed by gigs at major houses like Proenza Schouler and Alexander McQueen — and eventually conceptualizing her own collection.
"I think it [my brand] really came from a need to create it and being a young person in New York, interested in fashion, coming out — or not even realizing that I was coming out — and going to places," explains Kallmeyer. As a 20-something queer creative still feeling out her identity and how style played into it, she oftentimes found it next to impossible to find affordable and thoughtfully made pieces that conveyed the persona she wanted to present in the world. "I lived on the Upper West Side, and there was a Barney's Co-Op up there, and I would go probably once a week just to skim what was in the store and be inspired and be around fashion," she remembers, noting that nearly every silhouette that struck her fancy had some sort of embellishment or frill to turn her off. "And the only things that had classical, beautifully designed elements were four times the price."
Designer Daniella Kallmeyer.Courtesy of Kallmeyer
So, like so many fashion company founders, Kallmeyer's designs are in direct communication with what she personally wants to wear: Think streamlined, leg-lengthening pants, crisp shirting, and suiting separates that she credits as being inspired by peers in LGBTQ+ communities searching for occasion-wear options that felt truer to them. These items are not inexpensive — most pieces come in just under $500, while a dress or coat is likely closer to $600 or $700 — but they are priced in a way that feels like a doable investment for a wardrobe one plans to grow and build on over time. Over the course of the last decade and change, Kallmeyer has struck a consistent balance between masculine and feminine energies in her creations, something that is well-illustrated this season by a series of sleek ties paired with matching button-downs that were all over Paris Fashion Week last February. Still, Kallmeyer says, at the end of the day, she has so many more people to consider with each design decision than just herself.
"We fully imagine a woman. We have such a wide breadth of customer personalities, and career paths, and ages, and shapes, and sizes, and we're extremely considerate of that when we're designing," she says, pointing out that she was once so dedicated to ease of wear that she refused to produce anything that couldn't be worn with a bra until very recent seasons. In many regards, her constant anticipation of a shopper's pain points comes from own her insecurities with feeling like a bit of an industry outsider. As someone who could not see herself in what was on runways and in stores, she knows the power that comes with discovering clothes that feel like an extension of one's skin. "I present as a fashion person, but for a really long time, I didn't feel like I saw myself in the industry's darlings. And I think coming out, especially in New York, you're constantly rediscovering yourself and your identity through other people's vantage point," she says. "That very personal challenge is what I'm designing into. And the finished product is then something that people of any identity and any experience are having this visceral reaction where they're feeling seen and like themselves."