I Didn't Think I Had A Head For Hats But This Brooklyn Brand Changed My Mind
I was shopping for the accessory all wrong.
Marina Liao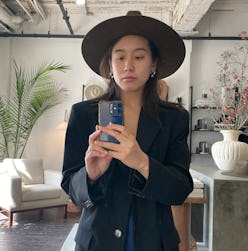 I've never considered myself a hat person. Some people can put on a beanie, a fedora, a beret, a fascinator, anything, and look great, but whenever I tried these styles on, nothing ever looked right. Beanies tend to slide up my head as I walk, while floppy beach styles make me feel dorky. I had all but given up on experimenting with the accessory, when an email from Heads Of State Hat Co., a made-to-order hat company, landed in my inbox. The label, founded by Gwendolyn R. von Rahn in 2021, opened its first store in Greenpoint, Brooklyn this month and I was invited to test its custom-fitting process for a fedora. I found myself thinking that, surely, if I had a style tailored specifically to my head I'd become a hat person... right? I decided to find out.
"I was really inspired by the heritage hat shops you might find in Dallas, Denver, or Nashville. I'm from Atlanta originally, so I wanted to bring that [in-store] customization experience [from the South] here, and merge it with NYC's aesthetics," Rahn tells me on a balmy Wednesday morning when we meet at her shop. Prior to launching her brick-and-mortar location, the brand's fitting process was virtual, but now that customers have a space to try on items IRL, she hopes the personalized experience will convert more people into hat lovers.
"I've heard a lot of people say, 'Oh, I don't look like the [type to wear that],' 'Hats aren't for me,'" she says. "But everyone can look good in them. The reason why you think you don't look good is because you're likely buying the same mass-manufactured styles as everyone else." The founder likens finding a fedora you feel good in to having a jacket or pair of pants tailored to your measurements — customization is key. "You have to make sure it suits your features and face shape," she says.
Gwendolyn R. von Rahn at her shop.Heads Of State Hat Co.
Here's how the fitting process works: Rahn starts by measuring her client's head. Mine was 22 inches, which, for reference, meant I needed a medium size hat. Her sizing goes from XS (21 inches) to XXL (24 inches). As an extra precaution to make sure everyone's topper fits just right, she created an adjustable sweatband on the interior, so that when you pull the strings, they can tighten to ensure the perfect fit. Once you determine your size, you get to select styles off the wall to play with, so I went for a few wool options.
One of the first silhouettes I tried on was the best-selling Teardrop — named for a teardrop-shaped indent on the crown — in a greenish brown called Dark Olive. I loved the earthy hue, but I wasn't completely sold on the tall crown, which made me feel cartoonish. Rahn says the color complements those who have more yellow in their complexion, while the brand's Silver Sand option (a soft taupe) is better suited to pinker undertones. As for a shade that might look good on everyone? The founder suggests the Brown Sugar hue (a deep chestnut). "It's the Sisterhood of the Traveling Pants of hat colors, because I've truly never seen that look bad on anyone."
After settling on a color, I needed to pick a brim size. I tried on The Classic style, which has a clean tapered point with slightly curved edges along the crown, with a 3.5-inch brim in Brown Sugar. I immediately liked how this overall design looked on me. I was able to visually tell that by going down from a 4-inch brim on The Teardrop to a 3.5-inch brim on The Classic, the fedora looked less overwhelming on my petite oval face. (Although you can barely tell this difference in the photos below, in person you can clearly see it!)
The four different crown styles on display.
Me in the four-inch brim.
Me in the 3.5-inch brim.Marina Liao
For shoppers who can't make it to Brooklyn for the in-store experience, there are still many ways to pick out the right hat you'll love online. Rahn shares several helpful pointers: "If you have an angular face or if you have strong facial features, then we recommend a crown that's a bit softer to balance out those features [like The Boater or The Bolero]," she says. "If you have a round or an oval-shaped face, you might want to complement that with sharper features in the design. Also, little details like brim size make a huge difference in how people see themselves in a hat."
Rahn adds that she offers brim sizes from 2 to 4 inches, with half-size increments. Ultimately, I decided to go with a 3-inch brim on The Classic in an olive-brown color as it worked best with my face shape and size. I didn't even bother trying on The Boater or The Bolero at this point because I had found "the one." Those styles read "I'm on a yacht in the Mediterranean," to me, and I wanted a more easygoing city-friendly piece that could go with me from work to dinner to a day at the park.
Beads and monogram options.Marina Liao
After I selected my fedora, it was then time to accessorize it by adding on extra accents. The choices included colorful and neutral beads, peacock, and pheasant feathers (which Rahn sources from a cruelty-free, family-owned company in Minnesota), suede ropes, and jacquard pattern trimmings. You can also get your piece monogrammed with your initials or astrology sign (I opted for the Aquarius symbol). Since I'm a minimalist at heart, I also went with a simple suede trim in a deep green shade and asked Rahn to make it removable, so that I could take off the decal if I wanted to.
"We [made removable trims] because this allows people to keep building around their hat and so they don't feel like they have to buy a whole new one to help them feel more casual or feel more dressy," she says. "For example, people [who shop around] November and December, they love the velvet [trim], but then come April, they're like, 'Oh man, I wish I had something lighter, more seasonal.'"
For those who want a fedora that looks more seasonal, Rahn offers The Classic and The Teardrop styles crafted from toquilla straw in four colors: Jet Black, Neon Navy, Toasted Yellow, and Terracotta. The material is sourced in Ecuador and handwoven by artisans who live there before arriving to New York City to be hand-blocked — a molding technique the Heads Of State team uses that gives all their hats, including the wool options, their specific crown shapes. "I launched straw in July 2022, and I almost entirely sold out in 72 hours," Rahn says. "Consumers were saying, 'Hey, we're ready for more.'" Custom hat fittings start at $229 for toquilla straw and $259 for organic wool, with prices ascending as you add on various embellishments.
The Classic topper worked with my everyday outfit.
A side view of the crown.Marina Liao
Wool and straw fedoras won't be Rahn's only offerings in the next few months — she plans to expand her collection of styles with intention. As I walked around the store, I noticed leather baseball caps on the shelves and she shares that she has several in-store exclusives like wider-brim sun hats and crochet buckets in The Bolero crown style. The founder even wants to create bridal styles in the future, to which I immediately pictured that Lindsay Lohan bridal top-hat scene in The Parent Trap (IYKYK). To maximize the experiential part of the shop, Rahn reveals that she's excited to offer in-store private, custom fitting parties for groups, whether it be for a bride and her bachelorette crew or for friends who want a fun experience.
As I left the store with my hat in hand, I was excited to go back home and show my colleagues the custom fedora on our Zoom call. I even roped my boyfriend to take some outfit photos of me in it after work — the pieces I had on that day, a J.Crew dress and Zara blazer, serendipitously matched my accessory. The Classic style fits seamlessly into my existing wardrobe and as it turns out I do, actually, have a head for hats.