Crochet Tops Are The Colorful, Serotonin-Boosting Trend To Try For Summer
They're not just for festivals.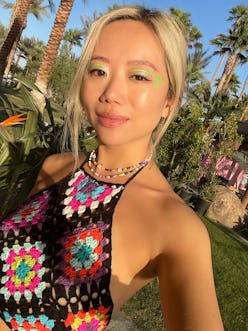 I am an unabashed festival queen. Though festivals have gotten a bad rap these days — morphed into spectacles that spawn questionable "fashion" choices like crotchet tops and fringe-everything — I still stand firmly in my fervor. There's a feeling you get when you first walk into the festival grounds: a burst of serotonin, with a side of frenzied excitement. The world suddenly feels smaller, and people are kinder. (Well, that is, until an intoxicated person pushes you out of their way as they stumble to the bathroom line).
I attended Coachella for the sixth (!) time this year, and though elements of it were highly annoying — namely, the process of getting out of the festival grounds and how crowded it felt everywhere you went — that "festival feeling" was present, just as I remembered. And as for the fashion choices — well, it turns out crotchet tops like the one I wore that weekend aren't just for the fields of Indio (just ask Missoni).
Cut to: my newfound obsession with the knitted style and the versatility it offers. Yes, I'm that girl who's brought her questionable festival fashion choices to real life. What can I say? The adrenaline I get when I wear my crotchet top(s) is unmatched.
TZR covered the crotchet trend last summer, crediting its rise to the '70s revival and even some of our (not mine) newfound knitting habits picked up over the past two years, and its popularity has only grown since then (two words: crochet swimsuits).
If you, too, would like to channel your inner '70s Woodstock fairy, shop some of my favorite crotchet tops ahead — no festival attendance necessary.
We at TZR only include products that have been independently selected by our editors. We may receive a portion of sales if you purchase a product through a link in this article
Long-Sleeve Crochet Sweater
Daring Crochet Halters
Boxy Crochet Tops
Crochet Cardigan