How Collective Climate Anxiety Is Shaping What We Wear
Three emerging looks that reflect the growing environmental crisis.
Arturo Holmes/Getty Images Entertainment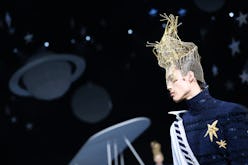 Not to be a downer, but doesn't it seem like there's news of another catastrophic environmental event almost daily? From record-breaking tornado outbreaks to actual rain in LA, unpredictable weather patterns are the new normal, wreaking chaos among those affected, and causing anxiety in those watching it play out from a distance — fashion designers included. Recently, these creative talents have stepped out of the storm, extracting inspiration from these occurrences to envision new ways of dressing, uses for unexpected textiles, and comparably climate-change-friendly(ish) production policies to lower their impact. The result? Looks that bring more drama than an afternoon thunderstorm in summer.
As efforts to delay the devastating impact of global warming continue to emerge, albeit at a seemingly (melted) glacial pace, designers attempted to offer a range of solutions in their latest collections for the Fall/Winter 2023. From Thom Browne's space-age-ready looks to Collina Strada's whimsical creatures, and Acne Studios proposing apparel both functional and fauna-like, the runways were rife with ideas of how to acclimate and address the quickly evolving climate crisis, of which the fashion industry, particularly fast fashion, is a key contributor. According to the Geneva Environment Network, "Fashion production makes up 10% of humanity's carbon emissions, dries up water sources, and pollutes rivers and streams."
"One of the least talked-about manifestations is how climate adaptation will drive new types of demand and the subsequent design response to that need. Global climates are changing and the functions we will prioritize in our apparel will continue to change because of that," explains Lorna Hall, director of fashion intelligence at WGSN, a trend analysis company.
Of course, confronting challenges through art sometimes post the most innovative — and revolutionary — works that spark conversations and invoke lasting change (the good kind). Just look at Aurora James, Nan Goldin, Dame Vivienne Westwood, or Kim Petras. Below, read about the most prominent and thoughtful ways that designers are investigating the warming world through their work.
Spaced Out
Thom BrowneNina Westervelt/WWD/Getty Images
Paco RabanneGiovanni Giannoni/WWD/Getty Images
From reinterpreted mod looks and runway-ready space suiting, this direction was all about retro-futurism, while proposing clothing primed for intergalactic travel. Thom Browne stans will be ready to travel to the stars in style. Buttoned-up tailoring, voluminous padding, and oversized outerwear reconsidered the concept of space, while perhaps suggesting the desire to make a good first impression with any new alien neighbors. Outfitting orbited the pragmatic — sartorial dress mashed together with superfluous sleeves and spaceship-ready uniforms in a single look answered the demand for clothes that could be carried from space shuttle to moon surface. Consider it the new day-to-night dressing.
The fashion show's set further expounded on a Thom Browne universe — models traipsed the face of a clock while absorbing their astral surroundings, and elementary stars and planets dangled from the ceiling. The mood was one of distinct wonder as if to ask, "How did we run out of time?"
"Activity around private space ventures has brought the interplanetary sphere to the fore, innovations in textile development often emerges from growth spurts in the space industry and it becomes an area of interest and creative imagination for design," says Hall.
Meanwhile, Marine Serre also took a position on where we might be headed as a society — stylistically and geographically — should the fashion industry not get ahold on the catastrophic carbon imprint it leaves in its wake. From sharp, cropped jackets constructed out of upcycled tote bags and fishing nets reused in her go-to moiré fabric, Serre has long been an environmental activist. It's the blending of the crisp silhouettes (the early looks were especially successful with prim pencil skirts worn with futuristic underpinnings). Alone, these outfits would have been merely interesting, a talking point, but the unexpected addition of face masks surfaced the question of air quality and future protective dress that may be needed in the years to come.
"Themes of space exploration, magic, mysticism, psychedelia, and spirituality are all huge influences right now as we look beyond the trials of the everyday for some solace," echoes Emily Gordon-Smith, content director and sustainability lead at Stylus, a fashion forecasting company.
As for the man responsible for the original space-age, mod look, a finale of metal-linked, A-line minis at Paco Rabanne paid homage to the work of the late designer, who passed away earlier this year. Taking flight in the late 1960s with his groundbreaking galactic looks, Rabanne designed costumes for the epic 1968 sci-fi thriller, Barbarella. A testament to his memory? The looks feel as timely today as when they first debuted. What's more, the use of unconventional metals proposes further investigation of what found materials can be used in future fashion production to reduce its impact on the climate.
Key Details: Slim trousers, A-line dresses, cropped jackets, and pencil skirts in upcycled textiles.
Nymph Core
RodarteTaylor Hill/WireImage/Getty Images
Collina Strada Albert Urso/Getty Images Entertainment
In this direction, rueful playfulness replaced the pragmatism introduced by Thom Browne and others. The sentiment? You can only prepare for the end of the world for so long before you need to lighten the mood — though darkness may loom just out of frame. Take, for example, the Rodarte fairies, adorned with sprouting flowers and headpieces, which harkened back to early faerie folklore: trickery concealed under the cover of forests, gardens, and meadows. What might transpire if a fairy's home burned in a wildfire? Will she lose her wings every time a rainforest is razed? It's unclear. But fittingly, the Rodarte mythical beings carried a somber if quietly menacing tone; looks were constructed in muted and leaked colors, and carried distressed details to impose a sense of mournful resilience.
"There's always contradictions in fashion and in response to all of the pragmatism and anxiety that exists around us playful, hedonistic self-expression is being embraced by certain consumer cohorts," says Gordon-Smith. "What's interesting here is the emphasis young creatives are placing on sustainability, in developing looks that historically would involve the most harmful materials."
This was the case over at Collina Strada, where a more lighthearted interpretation took center stage. Models were clad with animal faces. Clothing printed with realistic fur patterns echoed a sense of whimsy as they engaged with the audience. Hyper-layered looks were deconstructed and purposeful. The styling aided in an idea of hand-me-downs for the sake of survival — what can be reused and reimagined? All of this could act as a reminder of the wildlife that ostensibly could be saved with more sustainable practices, which the line champions.
"We really try to make sure we are using conscious fabrics and not shipping them all over the world to produce," says Hillary Taymour, creative director of Collina Strada, of the line's sustainable practices.
Key Details: Featherweight bias-cut dresses in muted palettes, trompe l'oeil animal prints, and responsibly made pieces layered for function. Optional: Fairy headpieces and prosthetic animal ears for a dose of fun.
Organic Utility
Dominique Maitre/WWD/Getty Images
Natacha ZinkoVictor VIRGILE/Gamma-Rapho/Getty Images
"If you can't beat it, join it" was the underlying message at designers like Acne Studios, Natasha Zinko, and Who Decides War. From leaf appliqués and war-ready outfits at Acne Studios to hooded anoraks and cargo bottoms at Who Decides War, it was clear these looks were as keen on function as they were making a statement. Addressing climate disasters requires as much of a fight from policymakers as it does from people enduring erratic weather patterns. As such, military details merged with worn and distressed treatments invoking a belabored, utilitarian vibe. What felt especially fresh, however, was the blending of nature, whether it be with the use of natural materials or borrowing from forest or fauna (think: reimagined camouflage) for prints and materials.
"Nature-led aesthetics and activations are certainly driving the narrative for many designers and brands. And this can mean many things," says Gordon-Smith. "From exploring flora and fauna through fantastical print and pattern to youth level [styling], the natural world now represents an ultimate luxury that's informing both visual directions and materiality."
The pursuit and maintenance of luxury can usher in a nasty fight (just look at Succession, yeesh). As such, cadets for climate change — or what might be born out of exposure to the elements — strolled down the runway at Natasha Zinko. Acutely titled "Monster," Zinko cited radiation, a common culprit in comics of transforming superheroes into alter egos, and a deadly byproduct of nuclear energy production, as what might unleash the inner monster residing within all of us.
"[The radiation mentioned] could be from climate change, but also humans are changing and becoming more egoistic," says Zinko. The latter is another significant cause of unresolved climate issues.
Zinko's namesake line has long favored sustainable practices, and the Fall/Winter 2023 collection was no exception. "Upcycling is standard practice in all of my collections. Several looks were created from deadstock and upcycled inventory. The Violet Hulk Shorts were made of my deadstock white denim jeans. I personally dyed them and distressed them," she says.
Key Details: Upcycled denim, multi-functional outerwear, deteriorated rosettes, modular padding. Add distressed and laced details to embody a weather warrior.