Spanish Fashion Designer Paco Rabanne Dies At 88
He passed away at home in Portsall, France.
Keystone-France/Gamma-Keystone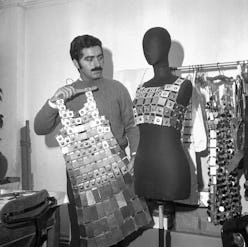 Spanish fashion designer Paco Rabanne, who was famed for helping pioneer space-aged style, has died at 88 in Portsall, France. Puig, which owns the Paco Rabanne house and fragrance businesses, confirmed Rabanne's death early Friday, Feb. 3. José Manuel Albesa, president of Puig's fashion and beauty division, shared: "Paco Rabanne made transgression magnetic. Who else could induce fashionable Parisian women to clamor for dresses made of plastic and metal? Who but Paco Rabanne could imagine a fragrance called Calandre — the word means 'automobile grill,' you know — and turn it into an icon of modern femininity?"
Born Francisco Rabaneda y Cuervo in 1934, Rabanne and his mother fled from the Spanish Civil War in 1939. The son of the head seamstress at Cristóbal Balenciaga's first couture house in Spain, the designer grew up with plenty of exposure to the industry. Upon studying architecture at the École Nationale Supérieure des Beaux-Arts in Paris, the young creative burst onto the fashion scene in the late 1960s, creating jewelry for heavy hitters like Givenchy, Dior, and Balenciaga. Though he was already highly regarded in the industry, the lauded designer's pivotal moment came in 1968 when he joined forces with Puig. This partnership led to the conception of Paco Rabanne Fragrances. Created in 1969, the designer's first perfume Calandre — French for "automobile grille" — remains a cult favorite today.
Rabanne presented his first namesake collection in 1966, titled 12 Unwearable Dresses in Contemporary Materials, which utilized paper, plastic, metal, and other unexpected materials held together by wire and glue. The Spanish designer decided to forgo fabrics and was quoted as saying, "sewing is a bondage." Though his debut line, which birthed the iconic chainmail dress, raised eyebrows among the French fashion press, the Spanish designer instantly catapulted to popularity. Ever since, the Paco Rabanne label has become synonymous with chainmail dresses, bags, and more.
The fashion world praised Rabanne's cutting-edge work. In fact, Coco Chanel allegedly dubbed Rabanne "the metallurgist of fashion." Moreover, the Spanish designer had a sought-after celebrity clientele, including Audrey Hepburn, Elizabeth Taylor, Brigette Bardot, and Jane Fonda. Rabanne created the buzzed-about costumes for Fonda's hit 1968 film Barbarella, pictured above.
After his 33rd couture collection, the legendary designer retired from the fashion world in 1999. Though the luxury label stopped production following his exit, it was back up and running by 2011. Today, Julien Dossena is at the helm of the brand.
The label also shared the news on its Instagram page: "The House of Paco Rabanne wishes to honour our visionary designer and founder who passed away today at the age of 88," read the caption. "Among the most seminal fashion figures of the 20th century, his legacy will remain a constant source of inspiration. We are grateful to Monsieur Rabanne for establishing our avant-garde heritage and defining a future of limitless possibilities."