Did You Notice? Clear Accessories Are All Over The Copenhagen Spring 2024 Runways
Full transparency: We're obsessed.
Alena Zakirova/WireImage/Getty Images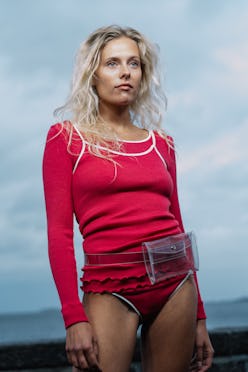 TBH, if anyone were to peek inside my everyday tote, they'd probably low-key judge me, and I wouldn't blame them. My pouch contains a ridiculous amount of hair accessories, old receipts, free candy I've swiped from bowls at restaurants — it's essentially a very messy version of Mary Poppins' bag. But after laying my eyes on all the fun see-through bags at Copenhagen Spring/Summer 2024 fashion week, I'm sartorially inspired to break my bad, untidy habit. On the runways, clear accessories, including jewelry and footwear, are having a moment too — and I'm all about it.
Let me be clear, though: The look has been trending for a minute now. During Spring/Summer 2023 fashion month, there was an onslaught of translucent accessories on the catwalks. A few popular iterations? Valentino's sky-high platform heels and Paco Rabanne's silver eyelet tote. And before that, at Fall/Winter 2022 fashion week, Coperni debuted its viral glass devil's horn bag, which soon became a celebrity It piece for stars like Kylie Jenner. It was only a matter of time before Danish designers offered their own creative takes on this playful trend, too.
Ahead, find the clear accents ruling the runways in Copenhagen. With shows running until Friday, it's safe to say these probably won't be the last translucent styles to appear on the catwalks.
The Garment
Matt Jelonek/Getty Images Entertainment
Are you tired of throwing on the same jewelry every day? If so, switch it up with clear styles, from chunky chokers to thick bangles. Because the pieces are colorless, they won't conflict with your pastel-colored dresses or brightly printed shirts.
Saks Potts
Alena Zakirova/WireImage/Getty Images
Alena Zakirova/WireImage/Getty Images
Matt Jelonek/Getty Images Entertainment
If cool girl-label Saks Potts says it's OK to put the contents of your purse on full display, then it's OK. On Monday, models rocked see-through belt bags with what appeared to be rocks inside. (Nature, but make it fashion.) You, however, can perhaps store your favorite lipstick or barrette in it — not much else fits. If you prefer a more roomy style, opt for a transparent tote.
Kerne.Milk
Kerne.Milk Photo credit: James Cochrane
Photo credit: James Cochrane
Photo credit: James Cochrane
Fans of summer's mesh flats trend will likely be into the PVC sandals presented by up-and-coming label Kerne.Milk. Each shoe was styled so differently to give you endless ideas on how to wear their footwear. One model wore her pair with skin-tight cropped pants, while another went with a flowy maxi dress. There was also an open-toe sandal and thick leg warmers combo, which is worth test-driving once the temperatures drop in fall.