The New Designer Bags For Spring/Summer 2023 Are Enticingly Good
Get out your credit card.
Givenchy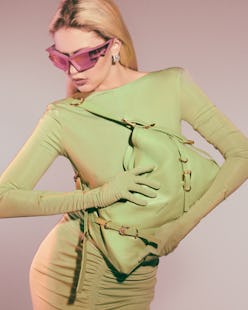 We may receive a portion of sales if you purchase a product through a link in this article.
It can be difficult to keep up with the latest launches from your favorite brands, if you're not constantly stalking their websites or Instagrams for drops. After all, the fashion cycle moves fast. Luckily at TZR, it's our job to track the must-have items on the market and clue you in on what is actually worth purchasing. One of our favorite categories to follow? Handbags. Right now, we're tracking the newest designer purses for Spring/Summer 2023 from your favorite labels like Fendi and Isabel Marant. This season, Fendi released The Peekaboo Cut, a fresh iteration of its iconic Peekaboo handbag, while the French-girl favorite brand introduced a new moon-shaped style perfect for everyday wear.
As you peruse through the latest drops ahead, you may also want to note which styles tap into Spring/Summer 2023's biggest handbag trends, if this affects your purchasing decision. For instance, green hues were spotted on the runways of Jil Sander, Prada, and Givenchy. If you're drawn to this verdant color, then Givenchy's Voyou in mint will speak to your personal tastes. Conversely, if you're not concerned with following the runway trends and desire a classic, everyday option then look to Ferragamo's Trapezio. Make no mistake though, the unassuming design has pizzazz thanks to the gold logo and luxe leather details.
Continue on to discover this season's must-have totes, shoulder bags, and more. Then, bookmark this post as it will be updated with even more drops from designer brands through the season.
Versace
Versace debuts its Repeat bag for Spring/Summer 2023, which is a re-edition of an archival Versace hobo bag from the early 2000s. The new style features Medusa zipper hardware, a detachable and adjustable shoulder strap, and a half-moon design. You can shop it in multiple colors and sizes now.
Chloé
The luxury brand unveiled its latest line of bags called Penelope, which comes in three variations. The first is the Penelope Shoulder Bag (available in small, medium, and large), which has a slouchy silhouette that's emphasized with braiding along the seams and the edges of the front flap. Meanwhile, the Medium Flap Bag features a more structured form like that of a box and comes in neutral hues like white, black, and mahogany. The final Penelope is a clutch style, available in multiple hues, that can be carried by hand or worn on the shoulder with a detachable strap.
Givenchy
For a hobo style you'll want to wear every day, check out Givenchy's Voyou. The name references a slang term in French for "bad boy" while the design of the purse merges everyday Parisian elegance with a California cool sensibility. According to a statement from Givenchy's Creative Director Matthew M. Williams, he said: "I wanted to revisit fashion articles with a kind of new language and a playful attitude. With the Voyou, you know at a glance that it's Parisian, but it's at home wherever it goes, and it makes an everyday style statement that has true staying power."
Ferragamo
This season, Ferragamo introduced a new crossbody bag that looks classic yet feels contemporary. The Trapezio is offered in three different designs, from a neutral black colorway to a leather and linen-cotton canvas style. For that subtle hint of logo, note the Gancini gold buckle.
Fendi
Fendi introduced the newest iteration of its iconic Peekaboo handbag: The Peekaboo Cut. (It was first unveiled at the label's Spring/Summer 2023 show.) The Peekaboo Cut comes in a sharp, trapezoidal shape and features a sleek O'Lock chain, allowing you to carry it as a clutch or on the shoulder. You can shop the purse in medium or petite sizes exclusively at Fendi boutiques.
Isabel Marant
The French fashion label's signature line of studded bags, known as Oskan, gets a new family member. The Oskan Moon is crafted from various materials, from a soft and delicate shiny vegetable-tanned leather to an eye-catching glossy leather. Opt for the purse in pearl rose — it's a pink-beige color — if you want a hue that's not black but will still match every outfit.
Loro Piana
If you're a fan of Loro Piana's luxe ready-to-wear pieces, you won't need much convincing to scoop up the label's new bag: Bale. According to a press release, "[This purse] was inspired by the story of the Loro Piana family, which, starting in the late 1970s, set off in search of the best raw materials nature has to offer to create elegant, timeless clothes. In particular, on the harsh highlands of Mongolia and Inner Mongolia, they found the finest cashmere, which is still delivered by nomadic shepherds in bales and stored in the company's spinning mill of Roccapietra, Piedmont ... hence the name Bale, a bag with a design and a texture reminiscent of the precious fibre bales discovered by the Loro Piana family."
The Bale Bag features hand-stitched handles, a suede tone-on-tone lining and a removable inner pouch. Meanwhile, the adjustable shoulder strap wraps all the way around the bag to create a loop motif that echoes the cords and belts once used to fasten the bales.