I'm Finally Coming Around To Brown Clothes & Accessories
Here are my favorite pieces for summer.
@tahairy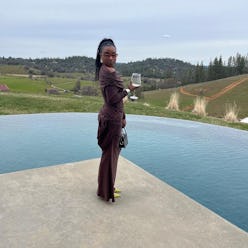 We may receive a portion of sales if you purchase a product through a link in this article.
Neutrals are my happy place in fashion. Black? Love it. Gray? A close second. White? I've come around to it once I got over the fear of potential stains. These hues lend themselves to a sleek monochrome outfit moment, no matter how casual the pieces are. As for brown, which you would think fits nicely into my love for a muted color palette, I'm still working on figuring out how to wear this shade. In the past, I've found that most brown clothes and accessories often fall flat against my skin; it would make me look super dull or completely washed out.
Still, I wanted to give the look a try, especially because both fashion girlies and celebrities like Kendall Jenner have embraced it with vigor. With a little bit more digging for the right piece, in the summer of 2019 I finally struck gold. It was peak Batsheva season, so frilly, ruffly creations were in and I had found the perfect dupe to their Dalmatian printed frocks with an equally as voluminous creation from Sister Jane. The toffee-colored number allowed me to dip my toes into wearing brown, albeit in a lighter shade. In the same season, I also stumbled upon an oversized structured shoulder blazer in a plaid print that came in a milky chocolate shade. With these two pieces in my closet, I felt confident there were options out there that complemented both my skin and style.
Of all the finds in this neutral category so far though, my favorite is this illusion dress designed by Sarah Nicole Francois. It dropped right as I was trying to find a standout look for a 2000s-themed birthday party, and the mini more than delivered. Everything about it hits: the scandalous design, the nipped waist to accentuate an hourglass shape, and, of course, the shade closely matches my own. Additionally, I'm also now the proud owner of a breezy linen maxi from J. Crew that comes in a rich cocoa shade. All this to say, with a bit of research, and luck, I'm coming around to wearing the nutty look. I even dyed my hair a warm brown one weekend after several years of leaning into a variety of red tones.
Now that I've finally found the brown shades and silhouettes that work for me, here are the pieces on my shopping wish list.