Everyone Is Wearing Brown Right Now — Here's How You Can, Too
Try these foolproof outfit ideas.
@ariellecharnas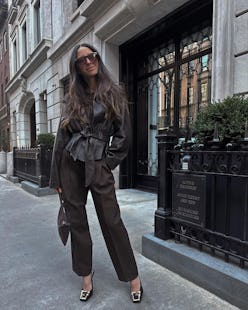 We may receive a portion of sales if you purchase a product through a link in this article.
Last week I showed up to a TZR photoshoot in Brooklyn wearing a mix of cocoa tones by way of a men's tailored pinstripe blazer (I got it as a sample at an old job), a tube top, and vintage trousers. Then TZR's Deputy Fashion Editor, Alison Syrett walked in alongside our Senior Social Strategist, Maggie Haddad, both also wearing outfits anchored in different variations of the earthy hue. The three of us laughed about it while acknowledging that there was definitely something there. As I continued to think about the coordinating moment in the following days, I realized that there are so many good brown outfit ideas worth trying right now.
For starters, my newfound obsession with all things caramel, tan, and deep umber has me rediscovering pieces from my mother's closet that ride a line between nostalgic and contemporary. She has this amazing brown wool maxi coat that, not too long ago, would have felt dated. Now, it makes me feel like I'm perfectly on trend. This is not to say that black is dead, because let's be real: It isn't going anywhere, at least in New York City, where it's been the default for decades. But I'd argue that we should all make room for a softer — and equally sophisticated — palette this coming spring.
"Brown is the latest neutral to have a moment and there are so many shades," Bloomingdale's RTW Fashion Director Arielle Siboni tells TZR. "The options are endless when putting together a look." And I agree. You needn't wear the color with the same or similar tones; it can be paired with most any neutral or bright. "The color is so unexpected," continues Siboni. "It's fun to use it for breaking typical 'style rules,' like wearing black and brown together."
Ahead, four easy ways to wear brown right now.
Monochromatic
I'm very into baggy cargo pants at the moment and The Frankie Shop is full of pitch-perfect options. As I work a mahogany pair into my wardrobe, I'll be following Siboni's advice: "It's important to consider multiple textures when creating a monochromatic outfit," she says. My approach to this? Pairing the silhouette with a walnut leather bomber to achieve that special variation.
Maxi Dress-ing
Stylist & Creative Director, Caitlin Burke always delivers top notch looks on her Instagram page. But she outdid even herself with this effortless cutout column dress from Christopher Esber during Paris Fashion Week. A brown suede bag (I found a similar style to hers on sale below!) will make you the most stylish person at the dinner table.
Mix & Match
Investing in a deep hickory-colored coat is a necessity, if you ask me. You can wear anything underneath, but a tawny sweater and your most comfortable pair of loose jeans will lend themselves particularly well to this blended neutral look.
Neutral Territory
Do not be afraid to mix black and brown, This silk reversible miniskirt from Ieri has the daintiest bow detailing to complement the off-the-shoulder black knit top from Toteme. Seeing the colors — my two favorites — come together so effortlessly truly warms my soul.