Never Underestimate The Power Of A Perfect Black Swimsuit
TZR editors share their favorites.
@solidandstriped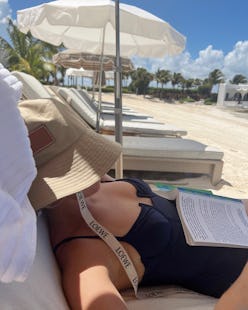 We may receive a portion of sales if you purchase a product through a link in this article.
Here we are in the homestretch of summer. Final beach days. Last backyard BBQs. The end of outdoor farmer's markets. Before I bum you out too much, though, here's the silver lining: You needn't stash away all your swimwear in the back of your closet this fall. I, for one, have an upcoming weekend cabin trip with a hot tub calling my name. I'm sure you can find an excuse to whip out a bikini or one-piece, too (don't sleep on Sojo Spa Club!). The best option to have on hand for any water-friendly occasion? A black swimsuit. Not only will it seamlessly fit into whatever look you're turning out, but it's a timeless piece you can rely on from year to year.
While we love a good beachwear trend (see: animal prints and cutout one-pieces), team TZR also values the importance of styles that transcend seasons, such as classic black swimwear. To wit, our editors have compiled a wide range of designs they rely on for your shopping needs below. If, like me, you have a cozy fall trip on the docket, perhaps go with a casual one-piece, like Hunza G's square-neck style. The look would pair perfectly with cute sweats as you transition to the campfire. Or, should you be heading somewhere tropical for a wedding next month (do you still need a plus one? asking for a friend...), consider Self-Portrait's statement-making embellished halterneck iteration. Peruse through these options and more ahead.