Wedding Guest Shoes Are Tricky To Shop For, So Here Are TZR's Vetted Picks
We stand by these beauties.
@machandmach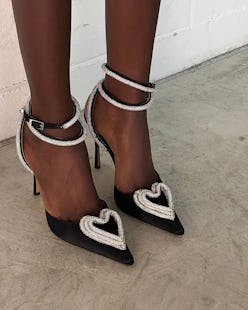 We may receive a portion of sales if you purchase a product through a link in this article.
When it comes to weddings, what you wear to the celebration can make or break how much fun you'll have. Pick the wrong dress — say a long-sleeve number for an outdoor ceremony in July and you'll be too distracted by your own sweat to hear the vows. Choose the wrong footwear, like a pair of six-inch stilettos with no arch support, and you might find yourself unable to feel your toes or worse — your heels covered in bubble blisters once the reception ends. If you're having difficultly shopping for wedding guest shoes in particular, know that TZR's editors went on a deep dive to help find the best ones to buy right now.
The picks ahead don't sacrifice style for the sake of comfort, and most importantly, the designs aren't overly trendy so you can bet on them lasting for another several years or so. For those who are seeking more neutral and minimalist options with a bit of pop in design, you'll love Rebecca Iloulian's (BDG's director of newsletter revenue and marketing) René Caovilla suggestion that features bejeweled straps, which snake around your ankles. If your style veers into the whimsical and playful territory, go for Social Media Strategist Maggie Haddad's floral adorned Nensi Dojaka selection or Beauty Editor Amanda Ross' ruffled cotton-candy colored mules.
Shoes are not mere accessories at a wedding, they are a gateway to self-expression so select the pair that aligns with your taste and comfort level, ahead.