I Swear By These 6 Tokyo Stores For Affordable Designer Vintage
From hot spots to hidden gems.
@kindal_nakameguro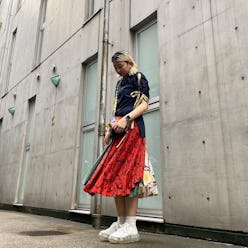 If it feels like everyone on social media is either in Tokyo or planning a trip there, you're not wrong. Since Japan's borders opened in October, the country's capital has been flooded with visitors. According to the Japanese Tourism Board, the number of American tourists who traveled there in February 2023 was almost equal to February 2019 numbers. It's easy to see why the buzzy city is such a popular spot: Beyond the area's incredible food and stunning historic temples, it has shopping unlike anywhere else in the world — especially for fashion lovers.
Tokyo has plenty of luxury brands outposts, like Louis Vuitton and Prada, and also department stores that carry local brands and limited-edition pieces. But some of the best places to spend your time and money are the city's amazing vintage and thrift shops. These secondhand boutiques have an unparalleled selection and pay meticulous attention paid to both the condition and history of the pieces they sell. They can also be surprisingly affordable, especially if you know where to look.
Having been to Tokyo multiple times, including most recently at the end of January, I have firsthand knowledge of the best resale spots — and have gathered my favorites below, including a hidden gem for avant-garde Japanese designers that has never failed me. Most of my picks have websites that will ship to the United States, but taxes and shipping costs vary, so you might not save as much as if you'd bought the item there. One other caveat: Sizing is extremely limited, with the largest option I've seen in shops topping out at a medium or large (rarely) for women. Even so, if you are dedicated to the hunt, you'll find something amazing at a great price at any of my favorite spots.
If You're Looking For Luxury Handbags: Amore
Perhaps the best known vintage spot in Tokyo, Amore has four locations in Omotesando/Aoyama, all within walking distance of one another. One shop is solely devoted to menswear while the other three offer women's clothes and accessories. Chanel fans will want to go to the Omotesando location, as there are two stores solely devoted to the brand. One carries handbags and jewelry, while the other carries ready-to-wear including jackets, cardigans, and more. For some reason, you can't try on any of the tops (they likely don't want you to stretch out the necks), but blazers and dresses are fair game. Everything is in impeccable condition, but prices vary — some pieces, like the classic flap bag, are cheaper than a brand new one at a Chanel store, while rare items can cost loads more.
If you're more of an Hermès, Louis Vuitton, or Dior fan, head over to Amore's Aoyama location. You'll be able to spend less than $1,000 USD on early aughts, logo-covered pieces like the Dior saddle bag or Fendi baguettes. For those seeking an Hermès Birkin or Kelly, you'll find an entire room with shelves packed with a rainbow assortment but expect to see price tags of $10,000 or more: It's easier than getting a new one but still a big splurge.
If You're Not Sure What You Want: Kindal
With 18 locations across Tokyo (plus more in other cities), Kindal is another well known resale chain. Depending on what you're in the mood for, certain shops will prove to be more successful than others. For example, the one right off Shibuya crossing is solely devoted to menswear — although the sizing will easily fit women as well. During my last visit, there were Rick Owens jeans, Bottega Veneta leather shorts, and an impressive Yohji Yamamoto archival sale. If you're seeking other brands, take a five-minute walk to the other Shibuya-area location, which had plenty of Phoebe Philo-era Celine pieces, like her platform sandals and Trotteur bags, Margiela Tabi boots, as well as Prada and Loewe bags from the last few years. Other locations like the ones in Ginza and Shimokitazawa also turned up great finds from the likes of Chanel, Comme des Garçons, and more. My advice? Make it a point to check out multiple outposts because you'll never know what you'll find in one versus another.
If You're Looking For Recent Runway Pieces: Ragtag
Want a lavender Bottega Veneta stole from the brand's Resort 2021 collection for around $500? Or maybe a Dries Van Noten black shearling coat that's more than 70% off its retail price? You can find all of that plus other straight-from-the-runway pieces at Ragtag. Perhaps one of the most well known of the resale shops, this chain is the most expensive of the bunch, but the merchandise reflects the time and effort spent on careful curation. Pro tip: If you're a Comme des Garçons fan like myself, the Cat Street location in Harajuku has an entire floor devoted to the brand as well its affiliated labels like Noir Kei Ninomiya and Junya Wantanabe.
If You're Looking For a Bargain: 2nd Street
Chances are you may have shopped at 2nd Street Vintage, as the Japanese reseller has multiple outposts across the United States. It's known for offering both designer and non-name-brand clothes and accessories, and the prices reflect this mix, as many pieces tend to be affordable. The shops in Tokyo are similar in ethos to the American ones, as you'll be able to buy older Louis Vuitton bags for less than $1,000 as well as tops from the likes of Vivienne Westwood, Ralph Lauren, and more for less than $200 (with some pieces going as low as less than $50). What you'll find really depends on the neighborhood: Ginza is ritzier, so expect more designer labels there, while Shimokitazawa has young and cool vibe, so that location offers something akin to a curated thrifting experience.
If You're an SSense Fan: Rinkan
Casually walk into a Rinkan shop, which has destinations across Japan, and you might mistake it for an SSense store (the company's brick-and-mortar location in Montréal feels extraordinarily similar). The two retailers definitely share a similar luxe streetwear aesthetic. Hunting for Saint Laurent leather jackets? There are racks of them, all in impeccable condition. Perhaps you're seeking Dior Homme back when Hedi Slimane worked there? That's also available and clearly marked, in case you weren't looking for Slimane-era pieces. You'll also be able to get fairly recent pieces, as the Prada section turned up Raf Simons-designed nylon bombers. Much like Ragtag, pieces are on the more expensive side, but for those who want pieces with a sense of history and hype, you can't go wrong with exploring what this chain has to offer.
If You're Looking For Japanese Avant-Garde Designers: 10 Tow
A street style photographer tipped me off to 10 Tow, and it's an underrated hidden gem located across from the massive Tokyu Hands in Shibuya. The tiny shop is on the fourth floor and is packed with avant-garde Japanese designers ranging from Comme des Garçons to Junya Wantanabe to lesser known brands like Arts & Sciences and Hysteric Glamour. Prices are reasonable — I've picked up a Pleats Please Issey Miyake bag for less than $150 and a Comme des Garçons coat for around $500. The shop is on Instagram, and you can try to message to see if they'll ship, but chances are whatever they posted is likely sold.