Retailers Are Betting Big On These Buzzy Labels In 2023
Just *try* to get this through this without shopping.
@interior.nyc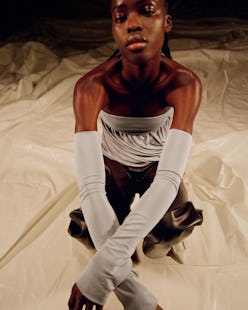 We may receive a portion of sales if you purchase a product through a link in this article.
Di Petsa's wet look. AKNVAS' braided knits. Nensi Dojaka's strappy minis. Bringing innovative techniques to the table, fashion's buzziest labels are constantly redefining how style stars get dressed. But for those on the outside, keeping up with fashion's faster-than-fast-pace is no easy feat. In a sea of new names and industry darlings, how does one know which designers to follow closely? Perhaps you should start with your favorite place to spend money. From Moda Operandi to Neiman Marcus, top retailers are constantly on a mission to stock their platforms with the crème de la crème of clothes and accessories. To wit, TZR chatted with insiders from top stores around the country (and internet) to weigh in on the best brands to shop in 2023.
For starters, there are a few ways experts recommend staying in the fashion loop (aside from reading this article, of course). "There aren't that many great boutiques anymore, so I think a platform like ours is one form of [brand] discovery," Hassan Pierre, co-founder of ethical retailer Maison De Mode, tells TZR. "I also think celebrities and influencers are a great source for that." (And when he says celebrities, he actually means the stylists responsible for their looks.) "The next vertical is through social, meaning that's usually how we're all digesting anything new." Between Instagram and TikTok, you're likely coming across dozens of different labels daily — which can be overwhelming, to put it lightly.
Cut through the noise ahead, where we've compiled a comprehensive cheat sheet to this year's most noteworthy designers, including fresh faces and fan favorites. Grab a pen and paper — note-taking is encouraged.
"Ludovic De Saint Sernin is part of the "new guard" of Parisian cool, crafting night out attire with a cool allure, while pushing the boundaries of gender expression," April Hennig, Moda Operandi's chief merchant, tells TZR. "With his new appointment as creative director for Ann Demeulemeester, his influence will continue in the industry." Hennig adds his signature red anthurium flower is about to be all over your Instagram feed, thanks to Kendall Jenner's viral moment in the look.
With party season back in full swing, Amira Rasool, founder and CEO of The Folklore, notices an uptick in weddings and cocktail events — and, of course, looks to wear at said events. Enter: Onalaja. "Nigerian-based womenswear brand Onalaja has consistently delivered amazingly beautiful hand-beaded dresses that exude boldness, sexiness, and elegance," Rasool says. "The brand is expanding into U.S. retail stores this year, so expect to see more from them soon." Until then, you can shop Onalaja online.
Foodies, listen up: Lisa Bühler, founder of Lisa Says Gah, says her team adores Meals Clothings, a new independent food-inspired label based in LA. "This brand will blow up because they have a cheerful and functional POV that attracts a wide range of customers with its unisex sizing," she tells TZR. "Our collab with Meals recently sold out in days, if that is any indication." (I don't know about you, but I'm craving the sweet watermelon jacket below.)
You heard it here first: Bühler says label Allina Liu is on the verge of a mega moment. After stints at The Row, Thakoon, and Rebecca Taylor, the designer introduced her namesake label to the world in 2015. So no, the brand isn't necessarily new — however, it's becoming one of the industry's buzziest names. "Her pieces are sweet, sexy, and flattering for everyone," Bühler says. "We can vouch that everyone on team gah has ordered the Camille dress, and we've reordered again and again." Whether you have a spring wedding on the docket or just looking to upgrade your dress lineup, Allina Liu has you covered.
An advocate of vegan fashion, Amanda Hearst, co-founder of Maison De Mode, counts Aera as one of her favorite cruelty-free shoe brands. "They're especially good for evening wear, which is great because it's really hard to find any vegan shoes [for a special event]." Heels, sandals, boots — you name it, the brand makes it (in Veneto, Italy, so you know they're worth every penny).
Arguably, New York-based label LaQuan Smith has surpassed the "emerging" stage. But it's worth noting that it's now destined for (fashion) world domination. Jodi Kahn, vice president of luxury fashion at Neiman Marcus, is excited to share that the retailer added the brand to its roster this year. "With 2023 social schedules already filling up, LaQuan will be a go-to for our customers — corsetry, metallic latex, [and] vibrant color all make for the perfect party look."
A rising Albanian designer based in London, Nensi Dojaka catapulted to It status last year. "Nensi Dojaka will no doubt continue to gain a following with her cult subversive dresses and distinctive lingerie-like aesthetic," Hennig says. "Nensi has been an instrumental part of the body-positivity movement with her Spring '23 collection, making it particularly clear as she continues to explore her range." The winner of the LVMH prize in 2021, Dojaka has a bright future ahead of her. Did I mention Bella Hadid and Dua Lipa are loyal fans?
"London[-based] label Cou Cou is known for its intimate assortment made for day or night," Bühler explains. "The price won't break the bank, and you'll get a lot of mileage from these pieces. We introduced the brand last month, and it was an instant sellout." Not to mention, a little someone named Hailey Bieber is a fan of the up-and-coming label. (In other words, don't be surprised if it goes viral overnight.)
Pauline Montupet, founder of San Francisco-based concept store Le Point, says LÙCHEN, a new brand founded by Parsons grad Lu Chen, is one to watch. "I was truly inspired when seeing the SS23 show," the insider says. "The deconstructed tailoring and use of technical fabrics remind me of Margiela. The separates have great wearability, and [I] would love to see some of the statement gowns on the red carpet." Making its Paris debut, LÙCHEN's Demi-Couture Spring/Summer 2023 show is currently drumming up plenty of buzz.
Boasting sleek silhouettes and top-notch tailoring, Istanbul-based label Zeynep Arcay is on its way to fame — and The Webster has taken notice, according to the retailer's women's buying and fashion director Astrid Boutrot. "We have always loved Zeynep's aesthetic and impeccable quality; it's the perfect brand to build your evergreen wardrobe while keeping pace with trends," she tells TZR. "The last campaign with Elsa really shows that the brand is expanding quickly and in the right direction."
If you're in the market for a new go-to purse this year, Pierre suggests a style from Sarah's Bag. "They're a really great bag company based out of Lebanon; everything is artisan-made by women," he tells TZR. The label utilizes crafts like hand beading, embroidery, and crocheting to create its unique styles. Moreover, Sarah's Bag is dedicated to empowering underprivileged women by training a team of over 200 females, teaching them a wealth of skills.
Looking for long-lasting wardrobe essentials? Look no further. "Jack and Lily at Interior are masters of quality and construction, which is so important when considering an emerging designer for Neiman Marcus," Kahn says. "Their approach to tailoring, cocktail dressing and everyday separates has a wonderful lived-in quality."
Rickie De Sole, women's designer fashion and editorial director at Nordstrom, says the retailer launched Interior in 2022 and expects it to be a fan favorite. "The pendulum is swinging back towards minimalism and a younger audience is finding aspiration in quiet luxury," she explains. "This sentiment also ties back to the conversation around sustainability and thoughtful shopping — considering pieces as investments."
Upon graduating from the prestigious Central Saint Martins, Sohee Park garnered attention for her unique couture dresses. "London-based Korean designer Sohee Park is another rising fashion star, who explores the craftsmanship behind couture through environmentally conscious ways with her namesake brand, Miss Sohee," Hennig says. "Her energetic collections consist of dramatic gowns, caged crinolines, punchy prints, and embellished flowers, resulting in a fresh, youthful take on eveningwear."
Rasool notes gender-neutral, Brooklyn-based jewelry brand V.BELLAN's significant growth since launching in 2020. "The styles are very understated but still manage to draw the eye, so it fills a void between minimalism and bold pieces that have been missing for a while," she says. "As they expand their fine jewelry collection, I think they're going to be a hit across price points."
Shopbop's fashion director Caroline Maguire says 2023 is all about color, and Danish label AKNVAS offers lots of bright, cheery staples. "[The] Taylor Blazer and O'Connor Pants are perfect for anyone looking for an everyday tailored silhouette." The brainchild of fashion veteran Christian Juul Nielsen, AKNVAS is also known for its unique braiding technique, exhibited above.
Boutrot says her team at The Webster discovered Di Petsa almost two years ago, and were immediately blown away by the technique behind the label's signature wet look — which, in short, is a secret design trick that results in the "wet" appearance. "This silhouette is such a strong and impactful signature design that really embraces all the different female forms," the fashion director says. "Dimitra Petsa's work is being seen more and more worldwide thanks to strong editorial images and VIP support."
Simonett Pereira, founder of Miami-based concept store Simonett, is loving Siedres' fun colors and playful silhouettes. "I'm always surprised by how much they innovate within each collection while staying true to their brand's aesthetic ethos," she says. "I think this, in combination with how they have solidified their stylist and press relationships will send them off."
Pierre says Maison de Mode recently added eponymous designer and Marangoni Fashion School grad Stefania Vaidani to its designer index. "She's a Greek designer who makes really beautiful, great party dresses and fun going-out clothes," he explains. "They're all sustainable, but very elevated."
Montupet is thrilled to welcome Maiden Name to Le Point in 2023. "They make really cool, super wearable but special clothes," the owner says. "Some standout pieces are stretchy knits that have a cool throwback '70s vibe, corsets, and fitted minis as well as classic tailored pieces at a contemporary price point." Her prediction? All the cool girls are going to be wearing Maiden Name this year.
Shopbop recently launched The Sei, and Maguire is obsessed, to say the least. "The brand's chic, luxurious designs, silhouettes, and fabrication are just stunning!" Conceived in 2020, the Los Angeles-based label is led by a small-but-mighty team of women.
"Nigerian-based footwear and accessories brand Shekudo brings the playfulness and comfort back into the shoe world," Rasool says. "The brand's willingness to experiment with fabric, prints, and color that are not traditionally used for shoes has set them a part from the crowd, and their expansion into U.S. retail stores this spring is sure to increase the buzz."
There are myriad reasons why Boutrot can't get enough of newcomer Diotima. "First of all, the crochet pieces are made by hand in Jamaica, supporting artisans," she says. We love seeing these techniques preserved and shown to the world through the brand." On top of that, the fashion director says the Brooklyn-based label has something for everyone. For the sophisticated woman, Boutrot points to Diotima's high-quality tailoring with an edge, while the daring fashion person would love its knit mesh pieces with embellishment. "The brand doesn't make you feel that you have to be one or the other; you can be all. This is what we want in 2023."
Montupet first met Hanna Yoo, founder of Hannahyoo Works, when she was a designer at Tibi. "She had started making some jewelry for the Tibi runway shows and now has gone off on her own," she explains. "They are truly unique little sculptural pieces of art for your ear. She managed to play with minimalist and maximalism in such a cool way, and I really have never seen any other jewelry like hers." According to Montupet, loyal Tibi fans are already obsessing over Yoo's emerging label.
Want your closet to look identical to influencer Sophia Roe's? Here's your chance. "The Garment by Sophia Roe is a lot more classic, but I think there's a huge demographic of women that lean towards chic and effortless dressing," Pereira says. "And the brand is releasing its viral Tanzania dress in several colorways this year which is sure to have its moment all over the internet," Pereira says. From see-through dresses to cozy knits, the label is chock-full of wardrobe essentials.