Here's All The Fashion Tea To Know This August
So many must-have collections.
Courtesy Of Bandier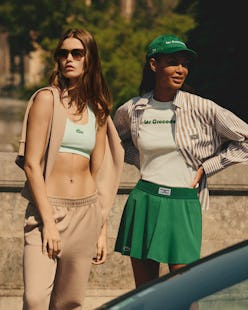 Ready or not, fall is in the air. TZR editors are already bringing up the arrival of pumpkin spice lattes in meetings (it is a hotly debated subject for the team, but we won't get into that today). Meanwhile, this past week, the Copenhagen Spring/Summer 2024 fashion week street style was full of incredible chilly-weather outfits, including plenty of leather jackets and fuzzy accents. Luxury designers, too, are gearing up for the new season as autumn collections have begun hitting the market. And that's not all: All the August fashion news, which we're laying out for you below, is sure to get you excited for fall.
If your denim rotation is in dire need of an upgrade, you're in luck: Madewell teamed up with celebrity stylist Molly Dickson, whose clientele includes the likes of Camila Mendes and Sydney Sweeney, for an exclusive denim collection. Available today, the 12-piece line capsule, priced from $82 to $178, features everything from miniskirts to slouchy cargo jeans. Want to amp up the true blues? Consider some funky accessories, such as the jelly bags and shoes from TELFAR and Melissa's latest drop of its TELLY JELLY collection. Or, for a dressier take on your fall looks, gather inspiration from Pandora's latest campaign with its newest global brand ambassador, Ashley Park. The imagery shows the Joyride actor wearing sparkly jewelry with a dazzling dress, but the pieces would look just as amazing with a casual off-duty look.
What else is happening this August in the style world? Continue scrolling to stay in the loop.
Lacoste & BANDIER Team Up For A Collaboration
On Aug. 15, Lactose and BANDIER unveiled their first-ever activewear collection. The activewear label's founded Jennifer Bandier, said in the press release that the drop "celebrates the sport of style, fusing fashion and fitness from a French-American perspective." The limited-edition line, which is priced from $70 to $595, features leggings, sports bras, polos, and more athletic essentials. Even better? The brands will release monthly drops until Dec. 15, so keep an eye out for more must-have sportswear.
AnotherTomorrow Launches The Foundation
It's a big month for AnotherTomorrow, an eco-friendly New York-based brand that counts celebrities like Gwyneth Paltrow, Sienna Miller, and Angelina Jolie as fans. On Aug. 5, the label launched a capsule wardrobe, The Foundation, with a campaign fronted by model and actor Carolyn Murphy. The collection consists of 34 timeless wardrobe essentials, including pieces like blazers, midi dresses, trousers, and, most notably, its first selection of seasonless denim. From the high-waisted trousers to its cropped denim jacket, the brand's newest category is full of year-round true blue staples.
SIR. Introduces An Occasion Capsule Collection
Cool-girl Australian label SIR. introduced its limited-edition occasion capsule collection this month. The collection was incredibly special, as it was created by the brand's Co-Founder and Creative Director, Sophie Coote, as well as her bridesmaids (she got married in June!). Including seven silhouettes, the looks are rendered in bold shades and made from luxe silk blends. Here's an adorable tidbit of info: Each style was named after the bridesmaid inspired by it. Aww is right.
Skims Creates Its Ultimate Bra
SKIMS fans, here's an exciting brand announcement you don't want to miss. On Aug. 17, the Kim Kardashian-founded label unveiled its biggest bra innovation to date: the Ultimate Bra ($58). "Unlike conventional push-up bras that use one large foam pad, which only lifts the bust up creating an unnatural shelf-like look, SKIMS Ultimate Bra has undergone years of development and fittings to offer a genuinely transformative experience," the press release said. And to guarantee an incredible fit, the label used 3D scans and molds of women's busts — including Kim K herself. We'll take one in each color, please.
Pandora Releases A Campaign With Ashley Park
To celebrate Park's new campaign and role with Pandora, the actor and fashion star hosted a dinner in Copenhagen, where the jewelry label is based, during the city's fashion week. Notable industry names, including stylists Erin Walsh and Mimi Cuttrell as well as influencers like Grece Ghanem, were in attendance.
Moda Operandi Launches Trunkshow With The Fifteen Percent Pledge
Today, Moda Operandi launched its second trunkshow with The Fifteen Percent Pledge, a non-profit organization that works with retailers to devote at least 15% of their shelf space to Black-owned brands. The first trunkshow in March 2023 includes ready-to-wear; this time around, though, the selections hones in on fine jewelry and home goods from brands like V.BELLAN, A.M. Thorne, and Jomo Tariku.
Aurora James, founder of The Fifteen Percent Pledge, said in the press release: "We're so excited to be collaborating with Moda Operandi for our second trunkshow together. We've curated an array of Black designers, ceramists, and visual artists across the home and fine jewelry space that come from all corners– Ethiopia to Georgia, Botswana to Brooklyn."
TELFAR & Melissa Are Teaming Up For Another Collection
If you missed out on the TELFAR and Melissa's first drop of its TELLY JELLY collection last month, you have a second opportunity to get your hands on a look, as the brands are back for round two. Available on TELFAR's site on August 14 and Melissa's starting August 21, the latest lineup will include new colors (pink, black, and brown) of the shopping bag, which fuses TELFAR's best-selling silhouette with Melissa's signature jelly material, and sandals. The totes range from $150 to $250, and the slides are $100.
Swarovski Joins Celebrations for 100 Years of Disney
Swarovski is honoring The Walt Disney Company's 100th anniversary by teaming up with Disney's 100 Years of Wonder, a year-long anniversary celebration. For the occasion, Disney invited top fashion creatives, including Swarovski's Global Creative Director, Giovanna Engelbert, to create pieces for Make-A-Wish. Engelbert made a replica of Cinderella's crystal slippers from the 2015 live-action film.
"What inspired me to recreate Cinderella's iconic crystal slipper for Disney100 is the name of the charity and the idea of a wish," Engelbert said in the press release. "And of course, the slipper is the most famous shoe in the world. It is transformative and full of magic, so it was the perfect way to unite the world of Swarovski with the world of Disney."
Madewell Releases A Line With Molly Dickson
Madewell teamed up with sought-after stylist Molly Dickson for an exclusive denim dressing capsule. Featuring shirts, jeans, skirts, and more, the assortment was inspired by Dickson's celeb clients and family, according to the press release.
The brand tapped Riverdale actor Camila Mendes, who works closely with Dickson, to front the campaign. "Molly and I both share a deep love for denim, so much so that we often show up to fittings wearing the same outfit," Mendes explained in the press release. "I couldn't be more excited for her to launch this collection. She really knocked it out of the park and I'm beyond proud of her."
L'AGENCE Opens A New Flagship Store
Should you be heading to (or live in) Los Angeles, pop by L'AGENCE's new flagship store in Beverly Hills, which opened on July 26. The stunning location, which the brand's co-founder Jeff Rudes and architect Paul Bennett designed, has a Parisian-meet-California vibe, with enormous windows letting in the glorious Los Angeles sunlight. The boutique offers ready-to-wear, denim, footwear, and accessories.
This article was originally published on