Frankies Bikinis & Sydney Sweeney Collaborated On The Sultriest Swim Pieces
There's a special story behind her lip print one-piece.
Sonia Szóstak/Frankies Bikinis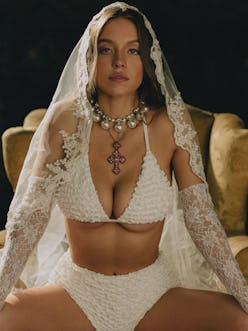 Swimsuit season is right around the corner, despite what the gray skies and 52-degree weather in NYC tell us right now. If you haven't already, take a peek into your swimwear collection sometime these next few weeks to see what items you're missing or what needs to be refreshed. Should you find that your bikinis and one-pieces are not up to par with your 2023 style, there's one place you can shop for the latest on-trend styles: Frankies Bikinis. Its new collaboration with Sydney Sweeney will drop on March 14, followed by a second release in April, and the lineup is filled with sultry and romantic selections for summer.
The collection, which was inspired by Italy, features a variety of swim and ready-to-wear pieces like a '70s-inspired white eyelet top and a cutout one-piece featuring an all-over pink lip print — which was created using the outline of Sweeney's own pout. Sizes will range from XS to XXL, with prices running from $70 to $220. The Frankies Bikinis x Sydney Sweeney collab shouldn't come as a surprise to fans of the label as it has a history of teaming up with celebrities. Last year, model Gigi Hadid created a capsule with them and the year before that, the swim label tapped tennis star Naomi Osaka to design a few pieces for the 2021 season.
Euphoria fans may remember that Sweeney's character Cassie wore a hot pink suit from Frankies Bikinis in Season 2 that captured the internet's attention. Turns out that Francesca Aiello, Frankies Bikinis founder and creative director, took notice, too. "The second I saw the episode of Sydney wearing the Gemma one piece, I immediately envisioned a collaboration for Sydney to create pieces that truly embody her gorgeous femininity, her bombshell romantic aura, and, not to mention, her numerous talents," she said in a statement.
As you wait for the full collection to become available to shop, get a sneak peek of the various styles ahead. The Euphoria actor models the offerings in a campaign shot on location in Rome, Italy by photographer Sonia Szóstak. Make sure to bookmark this story, too, as it'll be updated with shopping once the products drop on March 14.
Sweeney rocks a black bikini top and matching bottoms in this swimsuit-meets-lingerie mash up.
Attention 2023 brides: here's a potential white swimsuit option for your upcoming bachelorette party.
If you binged all the episodes of Daisy Jones & The Six, perhaps you'll want to start dressing like you're back in the '70s. This billowy sleeve top will help you do just that.
You won't find this one-piece lip print swimsuit anywhere else, as its an exclusive item for the collab.