Aimee Song On Finding Personal Style & The Confidence To Express It
The OG influencer is nothing if not evolving.
@aimeesong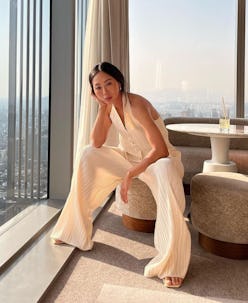 We may receive a portion of sales if you purchase a product through a link in this article.
Aimee Song is less than 24 hours away from boarding a plane to Seoul — where she'll sit front-row at Gucci's Cruise 2024 show — when she hops on a Zoom call with me from her stunning Los Angeles home. She doesn't seem the least bit stressed about her upcoming travel plans, even while telling me she hasn't even begun prepping her looks. "I'm getting dressed by the brand, thankfully, so I don't have to pack too much," she says in an exceptionally calm tone. This is a far cry from where Song started her career. One of the OG fashion influencers, she began her blog Song of Style while in college in 2008 and steadily grew a following by way of her effortless, high-low approach to West Coast style. Followers came to her both for her approachable mix of labels (one outfit, say, might blend a vintage blazer with an Urban Outfitters top and Steve Madden boots) and the cute, inventive ways she put everything together. And while Song has certainly evolved to be a prominent fixture in the industry with tight relationships to high-end houses, she's still a go-to resource for smart, everyday outfit formulas. One thing that's changed, though? She has far more confidence about putting herself out there.
"Sometimes when I think about my older self, 'I'm like, 'D*mn, I tried so hard to impress people and look cool,'" Song says, reflecting on the early stages of her professional life. "I still wasn't sure of myself and trying to figure out who I was." And while her blend of luxury and affordable finds was often what resonated with readers, she was still just a student on a tight budget trying to fit in with a crowd that often had far more access to major designers than she did. More often than not, the Los Angeles native would overcompensate by sporting flashy pieces, like in-your-face monogram belts and a medley of bangles. "I would wear three different watches," she adds, giggling. "Why? I just wanted to be so cool."
Now, at 36 years old, Song is far more self-assured in the way she conceptualizes her looks and is equally skilled at deploying both big-ticket items and more approachable buys. One off-duty look, for instance, may consist of a top or dress from her brand Song of Style, a Louis Vuitton bag, and her trusty Adidas Samba sneakers; another could be Set Active leggings and bra with a giant button-down thrown over top.
Song still loves a good deal, which made her latest partnership with Marshalls an attractive one to her. "They have incredible designer pieces; buyers are always hunting the newest trends," she says. As part of her work with the off-price retailer, she's worked to launch its trend report, The Edit by Marshalls, that customers can reference while searching for inspiration as well as shopping tips and tricks. Song says that she relishes the opportunity to further show her community how to find quality, well-priced pieces, pointing out a well-received look she recently wore to a Marshalls panel. "The T-shirt was less than $50, and my pants were like $80," she says.
Perhaps the biggest evolution in Song's style journey has come from the birth of her son Teo in February 2022. "I wear fewer crop tops," she says with a laugh. However, the influencer notes that the most significant change is her postpartum body in general. "I thought postpartum was only three months, but somebody once told me, 'No, you carry a child for nine months, so it's a minimum of nine months, but it's actually like two years,'" she says. "And I was like, 'OK, that helps me have more grace and appreciation for my body.' However, Song is the first to admit that, like many women, she's very hard on herself. "Even when I was pregnant and had a baby, I was very honest and vulnerable about it because I want to change that narrative of, like, we have to snap back and look like a supermodel after two or three months."
Ahead, Song further details how her approach to getting changed has both changed — and sometimes stayed the same — through great personal and professional growth, as well as a few of the silhouettes and looks she can't live without.
What pieces in your closet have you had forever?
It's hard because, given my job, I constantly have to go through my closet. But there are some pieces I'm like, "I can't part with these." Seven years ago, I would've said a nice heavy-duty biker jacket, but over the past several years, I've swapped out my biker jackets to oversized leather blazers and trench coats. I've had some of my trench coats for a very, very long time. Knee-high boots, too, because they never go out of style.
What are your favorite timeless pieces? And how do you style them?
I love an oversized sweater. And when it comes to sweaters, and even button-downs, I always size up two or three times. I'm normally a size small, but I go for medium or large [in tops]. If you look at high-end designers, everything is an oversized silhouette, and I prefer that look.
Do you have a go-to outfit formula you always turn to?
Even before I was a mom, I was always pressed for time because I have my own business. My last-minute outfit is an oversized button-down and high-waisted denim or high-waisted trousers. And if I'm on a time crunch, a white or striped button-down is a must. To me, that's the easiest, and then I throw on some of my necklaces and dash out the door.
Do you change up your style when you go to travel to different cities?
Yes. I go to Italy a lot because my partner's Italian, and I dress a bit more colorfully when I'm there. A different side of Aimee comes out where I'm like, "Oh, I'm going to like frolic around the field; it's beautiful." Like Emily in Paris, where you're that bubbly American girl; that part of me comes out because people there are so friendly. So, I'm always wearing something like a colorful full skirt. Whereas in New York, it's more about comfort and looking put together.
How are your work outfits for events different from your style on the weekends?
When I'm off-duty, I don't wear heels; I only wear sneakers basically. And then for events, I'll put on platform heels or something with a bit of height. That would be the biggest difference. But outfit-wise, unless I'm going to fashion week, I feel like it's pretty much the same. I like wearing a good top and wide-leg pants. And with the Edit by Marshalls, there are so many different trends [I want to incorporate into my wardrobe]. Some of the trends, like the matching suits, I'm like, "Yeah, that's me." I love a good matching moment.