7 Activewear Trends Experts Predict Will Take Over In 2023
@livetheprocess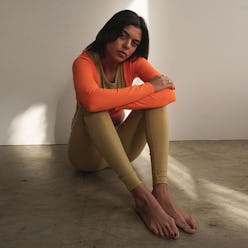 We may receive a portion of sales if you purchase a product through a link in this article.
Blame it on spending ample time at home over the past few years, but the line between activewear and going-out clothing is blurrier than ever. Pieces once reserved for Pilates class now work equally well for your 9-to-5 gig — or, at least, grabbing drinks after you sign off for the day. (I, for one, dressed up Sincerely Jules for Bandier's Lotus Front Slit Leggings with a cardigan and loafers last week for the office.) It makes sense, then, that 2023's activewear trends are no longer solely designed for a sweaty workout class; they're intended to effortlessly translate to every facet of your life.
Jon Schwartz, founder of Splits59, says that consumers are particularly interested in athleisure that works for multiple purposes. "As the modern woman continues to take a laidback, effortless approach to their activewear styling, we will continue to see customers gravitating toward sets that can be worn during and after their workout," he explains. A prime example: Two-piece looks, which fully took off during the 2020 lockdowns, are continuing to lead the athleisure pack right now (just look to brands like Splits59, Alo Yoga, and Set Active).
Echoing Schwartz, J.Lindeberg's creative director Neil Lewty says people are seeking functional clothing, but still want a wardrobe that feels modern and different. They point to colorful garments as a popular option. Thus, his team is prioritizing designs that are both workout-approved and look good out and about in the city.
What else can you expect to see this year? Ahead, find seven up-and-coming activewear trends to put on your radar, according to well-known brand founders and designers.
Feminine Earthiness
Robyn Berkley, co-founder of Live The Process, is seeing growing enthusiasm for earthy hues: "[The] color palette is grounding and moody, offering nature's elements, but mixed with lots of pinks and peaches as well," she tells TZR. "It's about a softer approach with a warmer aesthetic infused with sunny positivity." Test out the trend by injecting your closet with greens, creams, oranges, and browns.
Stripe Up Your Life
Though considered a classic print, stripes will remain popular this year — and the latest bold iterations pack a serious punch. "Our retro-inspired pieces will continue to cater to the Splits59 girl's needs with modern silhouettes and color trends, allowing our customers to mix, match, and layer day to night," Schwartz says.
Dance The Day Away
As balletcore steadily gains momentum in 2023, Berkley notes an uptick in studio-ready activewear. "[The] dance trend continues with a big push of bodysuits, leotards, leg warmers, and layering," she explains. Go all in with the rising aesthetic by finishing the look with ballet flats (and a modern take on a tutu, if you're really invested).
Earth-Friendly Practices
As fabric fairs return to the fashion industry, Lewty is noticing evolutions in the sustainable department. "New finishes based on natural product such as cork are emerging," he says. "We are working with Swiss fabric mill Schoeller and they have many of these type of developments." Berkley is on the same page, adding that plant-based fabrics (see: organic cotton, recycled nylon, and more) are a must for 2023. "The consumer cares about timeless essentials."
Modern Minimalism
While bright, bold hues are having a moment, some might be leaning towards a "less is more" approach to activewear, according to Berkley. "It's about those staples that are classic and your go-to," the expert says. Her take on the look? A monochromatic outfit with subtle pops of colors, be it via an accessory or jacket.
'70s Glam
Get your groove on with '70s-looking silhouettes, which Berkley predicts will be sought. She describes the look as equal parts sultry and sophisticated and calls out flared pants, aka yoga pants, to millennials (IYKYK) as a key piece. Likewise, Alejandra Hernandez, designer at Year Of Ours, and Schwartz are both betting big on an influx of the wide-leg bottoms this year. (The latter says the style is the ultimate wardrobe essential.) Team the early aughts-favorite stretch pant with Uggs or Moon Boots for a Y2K-approved outfit.
Hit The Courts
Grab your racquet and hit the courts because Lewty confirms sporty looks are here to stay. "We see a general active and fashion trend happening in tennis, this has been gathering momentum in the last couple of years," he tells TZR. "As with many trends, it's gathering pace and will be around for a while."