If You Thought Tracee Ellis Ross Couldn't Get Cooler, Check Out Her Bubblegum-Pink Bob
How can you not love her?
@traceeellisross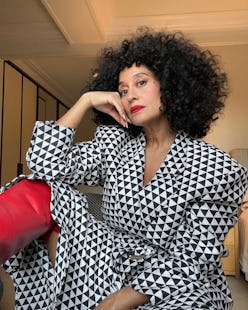 There's a lot to love — and seriously admire — about Tracee Ellis Ross. There's her rich body of work, her impeccable fashion sense, and always spot-on beauty choices, but it all pales in comparison to her overall playfulness. Regardless whether she's humbly accepting a major award or speaking candidly about real-life issues, Ross always infuses everything she does with her unique sense of joie de vivre. And if there's any doubt about it, just look to the pink hair Ross used as the cover picture for a fun new Instagram photo dump.
Short and sculpted with matching bubblegum-pink bangs and a distinct shine that instantly gives it away as a fun, cheapie party wig, Ross's short-lived look is already becoming an all-time favorite among her fans. Several stan accounts have already make the shot their own social media profile pics, in fact. Everything about Ross's luxe natural curls are perfect, color included, but even this silly shakeup feels a little exciting. In the shot, one hand is delicately perched in front of her chin as the selfie is taken from below. It's the sort of picture you'd snap and immediately send to your group chat — Ross's public sharing only heightens her dream-universe-best-friend appeal.
Sadly, that single photo is all that fans have of this short-lived pink phase, but the other shots shared in her carousel have plenty more beauty inspiration. In between moving photos of sculptures and paintings, Ross uploaded some chic mirror selfies that show off her impressive hairstyle range, signature red lipstick, and her sleek manicure. It looks like a soft, subtle take on the American manicure, which itself is a more subdued iteration of French tips — it's perfect for those who want a more natural feel.
She's the consummate muse any time of year, but Ross's looks always get a little extra luxe come the holiday season. Between the ruby-red lipstick that's become her trademark and her penchant for sultry, voluminous hairstyles, consider making her your one-woman winter party Pinterest board. Start with the pink bob too — talk about an instant conversation piece.