Taylor Swift's Oil-Slick Nail Polish Is Sleek, Chic, & Possibly Even A Secret Message
Lock in, it's time to speculate.
Gotham/GC Images/Getty Images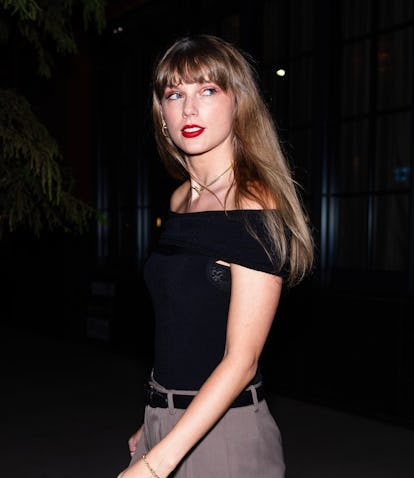 Never ask a Swiftie to explain any of the assorted theories regarding hidden clues and top-secret projects unless you have several hours to spare. But as the long-anticipated release of 1989 (Taylor's Version) looms closer, there's been a string of aesthetic coincidences on her high-profile outings that might just give credence to even the wilder conspiracy theories. Fans love to piece together any narrative they can, which often involves everything from her award show makeup to her hairstyles of choice. In this case, zero in on her manicure — what does Taylor Swift's color-changing nail polish really mean this time around?
Swift was first spotted with the shade-shifting nail polish at reported beau Travis Kelce's latest NFL game, a sleek, shiny match to her leather jacket and long-sleeved top. But days later, heading into New York's Electric Lady recording studio, she was still wearing the metallic manicure. What makes it so alluring and notable is the way it completely transforms in different lighting. Sometimes it's a bold purple, sometimes it looks much more like a glistening navy. And it's that exact two-in-one quality that's fueling fan speculation of a double album release later this month.
The specualtion started flying weeks ago, when Swift released the tracklist for her upcoming re-recording. Notably, there were zero features from other artists, even those with whom she'd partnered the first time around — which wouldn't really make sense considering the entire point of her re-recording project is to duplicate and replace her existing catalogue. Considering Swift's penchant for surprises and late-night drops, a large faction of her fandom thinks she'll surprise-release another collection of songs, all of which will be collaborations with other artists and friends. In fact, even the shirt she's wearing in the photo above has been roped into the theory — it's a one-size Daydreamer tee emblazoned with Shania Twain's picture, and the pair haven't been shy about their mutual admiration.
If all of this sounds a little ridiculous, know that there is some precedent here. Trying to tie hints about upcoming music to Swift's different manicures is a longstanding practice among fans, and one that's proven itself more than a few times over. In fact, this very reporter noted her baby blue nails in May 18 and speculated that it hinted at 1989 as her next re-recording, to total vindication. Even further back, in September 2021, I theorized that her sparkly red acrylics spelled out something special for the Red (Taylor's Version) release — and indeed, they were a crucial part of a music video.
The truth will out October 27 regardless, but in the meantime, continue to clown — what's wrong with a little internet detective work?