Rihanna's Louis Vuitton Campaign Puts Her Baby Bump Front & Center
You can thank Pharrell Williams for this one.
BACKGRID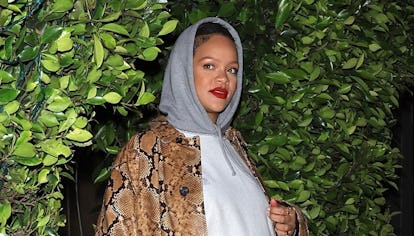 We may receive a portion of sales if you purchase a product through a link in this article.
For most of June, Rihanna seemingly flew under the radar, read: no internet-breaking social media posts or headline-making red carpet moments. All this changed, however, when Rihanna's Louis Vuitton Spring/Summer 2024 campaign dropped on June 15, which quickly propelled her back into the spotlight. This also marked the first men's campaign for the house's newly appointed Men's Creative Director Pharrell Williams, who succeeds the late Virgil Abloh.
In the ad, Rihanna donned a black checkered leather button-down, mostly unbuttoned, for her growing belly to shine. She jazzed up the top with silver necklaces and a flashy ear cuff. Then, in one hand, she holds a cup of coffee — who knew this could look so chic? — with purses draped on her arm while the other hand clutches another red LV bag. As you can see, ahead, Williams was the first to drop the star-studded announcement on his Instagram account. In the photo, he poses against Rihanna's ad at the Musée d'Orsay in Paris while wearing all black. He then simply wrote in the caption: LOUIS VUITTON MEN Spring-Summer 2024. The creative director will show his inaugural collection for the house on June 20 during Men's Paris Fashion Week.
If you follow Hollywood friendships, you know that Williams and the singer are close pals, so it's no surprise he tapped RiRi for the job. Their professional partnership traces back to the late 2010s (at least). In 2017, the musical powerhouse duo teamed up on N.E.R.D's comeback single "Lemon." And more recently, in 2020, Ri shared she was working with Williams on her much-anticipated ninth album, R9 — which, fingers crossed, will drop soon as it's been in the works for a while now.
Moreover, the duo's debut campaign is a good indicator of what to expect from the creative director moving forward. If Rihanna is the first A-lister he tapped, you already know he has a starry roster lined up for his upcoming runways and shoots (we're rooting for Zendaya next!). As you wait for his men's show, shop similar looks from Ri's ad below.