Pharrell Williams Is Louis Vuitton's New Men's Creative Director
Here's what we know so far.
@pharrell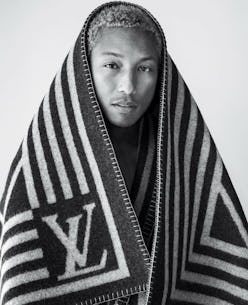 If you've been following the fashion conversation for the last year or so, the same topics keep popping up where LVMH (short for Moët Hennessy Louis Vuitton) is concerned. First there were the rumblings surrounding Phoebe Philo's own label, which is backed by LVMH, to which her fans finally received some positive news about its launch this month (it's debuting September 2023). Shortly on the heels of that announcement, Louis Vuitton announced on Instagram that Pharrell Williams is its new men's creative director. He will take over the highly coveted role left behind by Virgil Abloh, who died in November 2021, with Williams to show his first collection for LV next June during Men's Fashion Week in Paris.
For those who need a refresher: Back in 2018, Abloh made waves as the first African American to lead the house's menswear line. He was also one of the few Black designers to lead a major luxury fashion house. The magnitude of reach and power Abloh had isn't lost on LV, which is why the house had to thoughtfully and painstakingly search for the right person to fill his shoes. The label's been mum on possible replacements, but back in January Louis Vuitton did tap KidSuper Colm Dillane to co-create its Fall/Winter 2023 menswear collection. Now, however, LV has finally found Abloh's successor in Williams.
If you take a quick look at Williams' Instagram, too, his feed has been completely wiped in a Daniel Lee-Burberry type of move, save for the Louis Vuitton announcement, which nowadays seem to serve as a sign of a fresh start for designers and brands.
Many know Williams as one of the best music producers in the industry — he gave us "Milkshake," "Drop It Like It's Hot," and "Hollaback Girl" to name a few — and as a former coach on The Voice. While his musical credentials are extensive, his fashion resume is equally as impressive. He currently oversees Billionaire Boys Club — a streetwear brand founded by him and Nigo in 2003 — and its sub-label Icecream, a line of skateboarding-inspired shoes.
If the name Nigo sounds familiar, that's because he's now the Creative Director of Kenzo, which also operates under LVMH. Williams was one of the front row guests at Nigo's first show for the brand back in January 2022. Additionally, Pharrell is a longtime friend and collaborator of Chanel. He was the first man to appear in a Chanel handbag campaign in 2017 and even designed an "urban capsule collection" with the house back in 2019. Other brands Williams has worked with include Diesel, Moncler, and Adidas — all of which is to say, his hand in fashion is well documented at this point.
As for why and how Louis Vuitton might've had its eyes on Williams personally, he's already collaborating with LVMH-owned Tiffany & Co. on diamond sunglasses and way back in 2008, Williams partnered with LV on a fine jewelry collection that was based on coats of arms. "Vuitton for me is a school," said Williams in a 2008 interview with AP while discussing the partnership with LV's then Creative Director Marc Jacobs. "I've just learned a lot being here."
On a personal level, Williams was also Abloh's friend. The Wall Street Journal noted that in a 2017 interview with them, Abloh said that Williams would be one of his five ideal dinner companions. Additionally, Williams was one of the front row guests at LV's Miami tribute show to Abloh back in December 2021. The stars all seem aligned then, for Williams to lead Louis Vuitton into its next chapter.