Rihanna's New Shade Of Honey Blonde Might Be Her Best Hair Color In Years
Talk about a golden girl.
Gilbert Carrasquillo/GC Images/Getty Images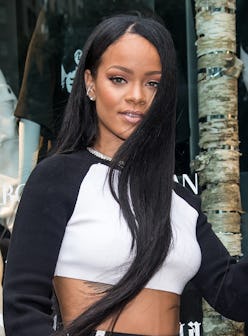 So everyone is in agreement — the end of daylight saving and winter time in general is an absolute bear right now, correct? No matter how many years you log on planet earth, peering out the window at 4 p.m. to a near pitch-black outside is just straight-up bleak. Even celebrity billionaires likely aren't impervious to a little seasonal serotonin dip — but one might have found a way to add some extra sunshine where it's needed most. Rihanna's honey blonde hair color, complete with some freshly-installed extensions, was just spotted as she ducked into a Los Angeles restaurant late on Saturday night. An alluring shade of warm gold, it illuminates Rih from head-to-toe and puts a summery spin on the rest of her fall-friendly beauty choices that evening.
The Fenty mogul's been trying out increasingly light hair colors over the past several weeks, but this might just be her final form. Initially, Rihanna started fall with a cozy, red-accented brunette that felt very aligned with the season's top trends, then segued right into the "brown sugar" shade she wore most recently. This new honey blonde is even fairer, and can be fully appreciated thanks to the ultra-long, pin-straight extensions that fall all the way down to her waist.
The Daily Stardust / BACKGRID
The Daily Stardust / BACKGRID
While her beige trench coat and chocolate lip liner-gloss combination feel so distinctly autumnal, her sunny shade of blonde and acidic green nails are keeping the summer spirit alive. Rihanna's lighter hair color is easier to appreciate when it's compared to her last few looks, too, particularly the amber-glazed brunette she started the season with.
Of course, going full-fledged blonde is old hat for Rih at this point. She's done several different variations on the color and combined them with all sorts of creative hairstyles — who could forget her golden pompadour era in 2009? Or her curly blonde bangs at the 2012 Grammy Awards for that matter?
Michael Loccisano/WireImage/Getty Images
Samir Hussein/Getty Images
Steve Granitz/WireImage/Getty Images
Knowing Rihanna (parasocially, some might say), this look will likely be short-lived. With a mind as creative as hers, it's only a matter of time before another style catches her eye.