Can The Summer Heat Make Your Anxiety Worse?
A gnarly sunburn isn't the only thing too much heat can do to you.
Written by Theresa Massony
TZR/ Stocksy, Getty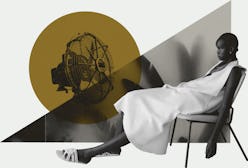 Every year, it happens the same way. My heart races and my palms sweat over everyday stressors I'd learned to cope with as a teen in therapy. I spiral over social interactions more than I usually do. I schedule five doctor's appointments in a month because I'm utterly convinced I have melanoma or a heart murmur. Eventually, I realize I'm not regressing, I'm not a social pariah, and I'm not dying of an incurable disease that'll kill me in 10 days. It's just August, and it's hot as hell.
The tail-end of July through August marks the hottest period of the year for most of the United States, and a good chunk of the rest of the world, and it's only getting hotter. July 2023 broke the record for the world's hottest month; climate change-induced heat waves aren't going anywhere anytime soon; and the weather segment of any news station is a broken record of scary heat advisories. As the Earth is slowly scorched each year, we're reminded of the more immediate, physical ways our bodies react to extreme heat: sweating, sunburn, fatigue, dizziness, dehydration, and shortness of breath, to name a few. For me and many others, summer's wrath isn't limited to profuse sweating and a gnarly burn. Consistent exposure to extreme heat seems to trigger a litany of psychological effects as well.
I'm not regressing, I'm not a social pariah, and I'm not dying of an incurable disease that'll kill me in 10 days. It's just August, and it's hot as hell.
"My anxiety symptoms are definitely heightened during this period, and it's been a pattern for many years," YouMe Lin, an entrepreneur in NYC, tells TZR. "[These symptoms] creep in, especially when I'm out socializing with friends. I find it hard to stay present, and my mind jumps around, causing challenges in enjoying the present moment and establishing connections with people."
For 23-year-old Casey Clark, a freelance writer, the extreme temps can mean an increase in her premenstrual dysphoric disorder symptoms, like extreme irritability, fatigue, and depression. "When I have a depressive episode triggered by my PMDD, I'll get really irritable and tired," she says. "My sister will want to go out to dinner or go see a movie, and I will quite literally yell because I'm so frustrated she has the energy and zest to do something."
While research on the link between heat and mental health is still developing, several recent studies of millions of emergency room visits have found an increase in visits related to anxiety, stress-related conditions, substance use disorder, and other mental health-related conditions during periods of high temperatures. "Consistent or long-term exposure to extreme heat has been linked to a number of serious impacts on our mental health," says Dr. Cecilia Sorensen, M.D., associate professor at Columbia University and director of the Global Consortium on Climate and Health Education. "Extreme heat can increase stress, depressive symptoms, lead to serious exacerbations of certain psychiatric conditions like schizophrenia, disrupt our sleep patterns, and may even be linked to increased aggression and acts of violence or self-harm."
It's difficult to pinpoint exactly why prolonged heat exposure seems to worsen some psychological symptoms, but experts say a few explanations — largely related to the physical symptoms of heat exposure — are likely.
"​​When we are uncomfortable physically, we become annoyed and moody. This is a fact of life," says Dr. Raafat Girgis, M.D., triple board-certified psychiatrist and medical director at Moment of Clarity Rehab Center. "[As a result of heat] we become dehydrated. ... Dehydration will begin to affect balance and cognitive abilities in decision making and reasoning." For those living with mental illness, Girgis says these effects can be even more detrimental. This rings true for Lin, who says, "During hot seasons, my mind tends to wander all over the place, making concentration more difficult and leaving me with a sense of being lost."
"Consistent or long-term exposure to extreme heat has been linked to a number of serious impacts on our mental health."
Another trigger? Not sleeping well. Sure, it seems counterintuitive; extreme heat can make you feel sluggish and tired, so conking out through the night shouldn't be an issue, right? But science, and my truly disgusting summer night sweats, say the opposite is true. Your body temperature naturally drops when preparing to fall and stay asleep. When the temperature around you, and in turn your internal temperature, rises, your body works overtime to cool you down, resulting in increased waking and restlessness. This can spell trouble for mental health-related symptoms. "Psychiatric symptoms almost universally can become worse when we do not sleep well," Sorensen says.
Couple all this with the looming anxiety of summer's end, the thought of 400 emails slamming into your inbox immediately post-Labor Day, and the pressure to pack every summer activity into the few short weeks remaining, and it makes sense why your anxiety or depression symptoms may feel more potent than usual. If you're unsure whether or not it's heat or something else that's affecting your mental health, first check on your physical needs: How much time have you spent exposed to the heat? How are you sleeping? Are you hydrated? Are there any other triggers or stressors that could be contributing to your symptoms? Still, Sorensen says any change you notice in the severity of your symptoms is worth a conversation with a therapist or doctor.
The most effective way to make it through this period of the year as best you can, according to the experts, is the obvious: Do what you can to stay cool and out of the heat. Sorensen recommends staying hydrated at all times by "both drinking plenty of fluids but also consuming high-moisture foods," like cucumbers, tomatoes, watermelon, apples, and more. Girgis says it's also best to plan any activities that require you to be outside for the morning when it's typically cooler, and to plan ahead if you know a major heatwave is coming. "Make sure you have enough water, food, and medication to see you through those days."
At night, both experts recommend doing what you can to ensure your sleep setup is cool and comfortable. Getting enough sleep (and sometimes, a little bit extra) is something that's helped Clark in more ways than one. "[Sleeping is] what I have to do to just get through the day sometimes," she says. "If I'm having really bad anxiety, I find that a nap can help separate my feelings from the situation, as I wake up feeling calm and ready to attack the issue from a more neutral place."
Lin finds that "mindfulness practices, like meditation and taking daily self-care walks" have helped her to regain control of her symptoms. And it definitely doesn't hurt to cut yourself some much-deserved slack for the rest of the summer, either. "I've learned to let go of the pressure to constantly seek excitement and stay busy with summer happenings," Lin says. "Instead, I prioritize making the most of my summer on my own terms, even if that means being a homebody."
Studies referenced:
Yoo, E., Eum, Y., Gao, Q., & Chen, K. (2021). Effect of extreme temperatures on daily emergency room visits for mental disorders. Environmental Science and Pollution Research, 28(29), 39243–39256. https://doi.org/10.1007/s11356-021-12887-w
Yoo, E., Eum, Y., Roberts, J. E., Gao, Q., & Chen, K. (2021). Association between extreme temperatures and emergency room visits related to mental disorders: A multi-region time-series study in New York, USA. Science of The Total Environment, 792, 148246. https://doi.org/10.1016/j.scitotenv.2021.148246
Nori-Sarma, A., Sun, S., Sun, Y., Spangler, K. R., Oblath, R., Galea, S., Gradus, J. L., & Wellenius, G. A. (2022). Association between ambient heat and risk of emergency department visits for Mental Health Among Us Adults, 2010 to 2019. JAMA Psychiatry, 79(4), 341. https://doi.org/10.1001/jamapsychiatry.2021.4369
Altena, E., Baglioni, C., Sanz‐Arigita, E., Cajochen, C., & Riemann, D. (2022). How to deal with sleep problems during heatwaves: Practical recommendations from the european insomnia network. Journal of Sleep Research, 32(2). https://doi.org/10.1111/jsr.13704
Experts:
Dr. Cecilia Sorensen, M.D., director of the Global Consortium on Climate and Health Education; associate professor, Department of Environmental Health Sciences, Columbia University Mailman School of Public Health; associate professor, Department of Emergency Medicine, Columbia University Irving Medical Center
Dr. Raafat Girgis, M.D., triple board-certified psychiatrist specializing in addictionology and psychosomatic medicine and medical director at Moment of Clarity Rehab Center