Rihanna's New Hair Color Is The Coziest Combination Of Fall-Friendly Shades
A little of this, a little of that.
James Devaney/GC Images/Getty Images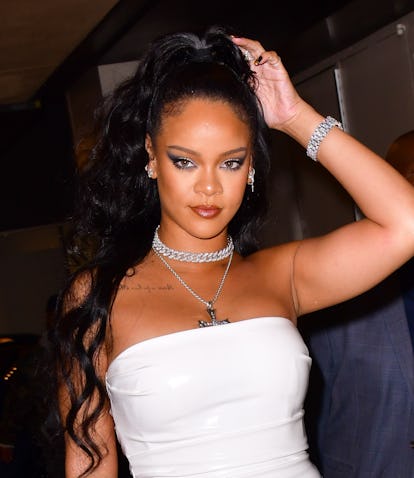 Forget angel numbers — what if while you were simply minding your business at a party only for a denim-clad Rihanna to breeze through the door and join a dance-off right in front of you? That's the only sign from the universe needed to know that yes, your life is extremely on-track. A few lucky club-goers got that exact experience this weekend in New York, and got an up-close view of Rihanna's newly-acquired brown-red hair color in the process. A brilliant blend of earthy brunette and cinnamon-y red, it's fall-perfect shade that combines every trending tone of the season to create an entirely new look. And that sounds about right, too. Did you expect Rihanna to get the exact same cowgirl copper as everyone else?
Rih's color can only be described as truly couture, a reflection of her approach to personal style. Rather than go directly for one of fall's most popular shades, she decided to combine several for something truly custom. Fans first caught a glimpse of the shakeup at beau A$AP Rocky's birthday party, but her (admittedly very glam) updo obscured most of the details. An outing just a few days later really put the new color in sharp focus, really showing off the blend and dimension thanks to long, wet-looking waves.
The color is significantly lighter than Rih's natural deep raven, but is still firmly centered in the brunette category. However, it's all illuminated by that warm, spiced shade of red especially noticeable through her ends. There's enough of that in there to pull plenty of attention, but it's a far cry from the red hair she's had in the past. Usually, Rihanna goes for a much brighter, bolder red — sometimes it's a true ginger, like her long, 2023-era braids, sometimes it's a deliciously over-the-top neon. In fact, she was practically synonymous with the latter all through her Loud album cycle.
Gotham/GC Images/Getty Images
Anthony Harvey/Getty Images
It feels like a bit of a stretch to say Rihanna's fully red again, but this looks like it could be baby steps on the road back. With her penchant for constant reinvention, it's always only a matter of time.