Does It Get Any Sweeter Than Rihanna's New 'Brown Sugar' Hair Color?
James Devaney/Getty Images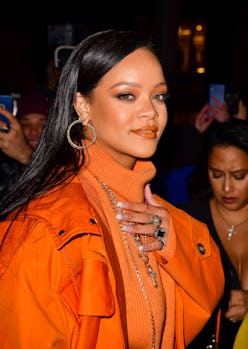 Rihanna might have built her now-massive Fenty Beauty empire on the power of universally accessible cosmetics, but longtime fans know that her most underrated aesthetic abilities all revolve around her hair. Think about it — what was Rih's first truly moment-defining look? It was undoubtedly her 2008-era asymmetrical bob, and things only got cooler from there. Now, fast-forward nearly 15 later, and she's still leading by example with elaborate hairstyles, all done up in the most exciting shades. Her newest, though, is a real fall-winter treat. Rihanna's light brown hair color is much softer, lighter, and far more neutral than the red-glazed brunette she debuted back in the earliest days of October, but it happens to be an especially modern blend of every trending shade.
Fans first noticed Rih's new hair color as stepped out in Los Angeles after a cozy private dinner alone. Against the long, black leather jacket she wore, the light brown stands out all the more, especially thanks to the dozens of paparazzi flashbulbs illuminating her entire look. Set in big, brushed-out curls indicative of a recent blowout, the hair falls in long, barely-there layers with its deep side part curving around her face as she smiles.
Considering Rihanna usually favors hair colors on the more extreme end of any spectrum — think jet-black, bleach blonde, or a bright, neon red — this detour through a softer, more standard-issue shade is actually a pretty exciting one. Just compare the brown sugar-colored waves to this darker, more red-toned version, spotted only a few weeks ago:
Her sugary, soft brunette is trending, too, and surely getting another massive boost in popularity after this high-profile co-sign. Darker hair colors always see a spike this time of year, but Rihanna inverts the trope by going lighter than usual but tempering it with a chic, neutral tone that seems to expertly balance golds, browns, and just a hint of fiery cinnamon — an elite combination of sought-after shades.
Rihanna seems to be cycling through colors at an even quicker pace than usual, but they're all worth recreating. If you need a place to start, consider this a sign from the universe.