Meryl Streep's Milkmaid Braids Are Keeping Cottagecore Hair Alive & Well
A queen needs her (braid) crown.
Raymond Hall/GC Images/Getty Images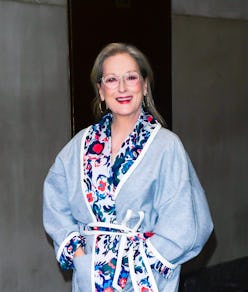 We may receive a portion of sales if you purchase a product through a link in this article.
There's no television show, film, or event that Meryl Streep can't make better just by participating. Streep's Midas touch is mostly about her preternatural acting ability, of course, but there's something about her ability to convincingly shift between aesthetics that helps really sell whatever character she's playing. News that Streep would be joining Hulu's Only Murders In The Building — starring in its third season alongside Selena Gomez, Steve Martin, and Martin Short — fans freaked out. But as more photos from on-set emerge, it's about to hit a fever pitch. Meryl Streep's braid crown, seen in a photo Gomez posted to Instagram, might be a clue about her character, too.
In fact, that wraparound braid crown looks to be Streep's signature hairstyle in the show. So far, all that's been revealed is that Streep plays a theater actress named Loretta, and she's clearly fond of cottagecore hairstyles — in every promo featuring Streep so far, she's worn it. While the style is a conscious extension of her character, though, it's also just an extremely pretty updo in its own right, made all the better because it only looks complicated to recreate.
In both previews of Streep's character shared by Hulu, she's wearing a thick braid looped around her head, accented by tapered curtain bangs. But because she's wearing different outfits in the teaser trailer and photos, it suggests this style is something of a signature look for the character. Ask your ex-theater kid friends to confirm, but does this not seem like an extremely accurate hairstyle choice for an over-the-top Broadway type?
To get the whimsical look in real-life, there's two ways to go about it. If you want to exclusively use your real hair, a bit of length and volume is required for a braid as thick and uniform as Streep's — and that's because the on-set hair team is absolutely using braided extensions wrapped around her real hair. That's actually the easiest way to do a crown braid, and because most of the natural hair is pulled back, the hair color doesn't even need to be a completely identical match.
Shop some of the most user-friendly extensions below to get Streep's bucolic braid crown — there's plenty of time to practice before Only Murders In The Building season three drops sometime this summer.