Selena Gomez's Wedding Is Just For TV, But Her Bridal Makeup Is Still So Stunning
Only brides in the building.
@hungvanngo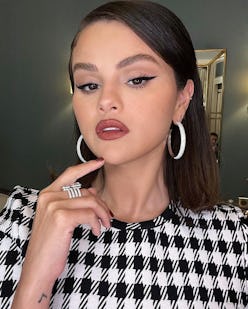 The news went out like an iPhone emergency alert. Thousands of group chats across the country (and probably the world) all lit up with the same feverish texts at the same time: Selena Gomez in a wedding dress! To be fair, it was immediately clear that the actor was simply filming a thrilling plot twist for her hit show, Only Murders In The Building — but regardless of if her look was part of a faux nuptials or real ones, Selena Gomez's bridal makeup and hair blew everyone away. Part of the look's allure is that while it's certainly in-step with popular wedding makeup of the moment, it's not without a few signature touches that feel hand-selected by the Rare Beauty mogul herself. Especially when it's all paired with her dress's classically romantic ballgown silhouette, Gomez might be the most influential fake bride of the decade.
The first photos of Gomez's on-screen wedding dress were reportedly grabbed by the paparazzi staked out in front of the Only Murders filming site, but she quickly uploaded a few behind-the-scenes looks to her Instagram page — which, if you haven't already heard, is the most-followed woman's account in the platform's history. "I have no caption," she added to a two-photo series of her combat boots peaking out fro the gown's hem. "Just a regular day at work."
Gotham/GC Images/Getty Images
Raymond Hall/GC Images/Getty Images
To complement the lacy gown's defined sweetheart neckline, Gomez's hair was pulled back into a loose, whimsical bun, with her swooping side bangs and some gently-curled tendrils left out to frame her face. A gradient cat-eye helps both define and elongate her eyes and lashes, but it's the bold, violet-toned red lipstick that really stands out here — which is the entire point.
While it's unclear how much say Gomez has in her on-screen hair and makeup, she is technically a cosmetic professional and can often be seen sporting her personal aesthetic's touches in her work, too. As wedding hair and makeup in general gets increasingly personal — a far cry from the lock-step looks of the past — expect to see plenty more Gomez-esque lipstick shades on brides throughout 2023 and beyond.